Wrenbury – Crewe – Manchester Airport – Malpensa – Milan
The starting point for this trip was a special concert in Milan with Carmen Consoli and Elvis Costello, the last of three that they were doing together. It was also my fourth time seeing Carmen this year (all in completely different settings) and my sixth visit to Italy in the past 12 months. Before starting this diary I'd done a trip to Sicily and southern Italy in September 2022. I'd also had a short break in Milan the following month. Both super trips which I should maybe write up some time.
This trip was to start with an evening flight from Manchester so I worked the morning and set off shortly after lunch. The boat was at a friend's mooring in Shropshire this time, and I'd decided that I'd depart from Wrenbury once more, as that had worked well last time.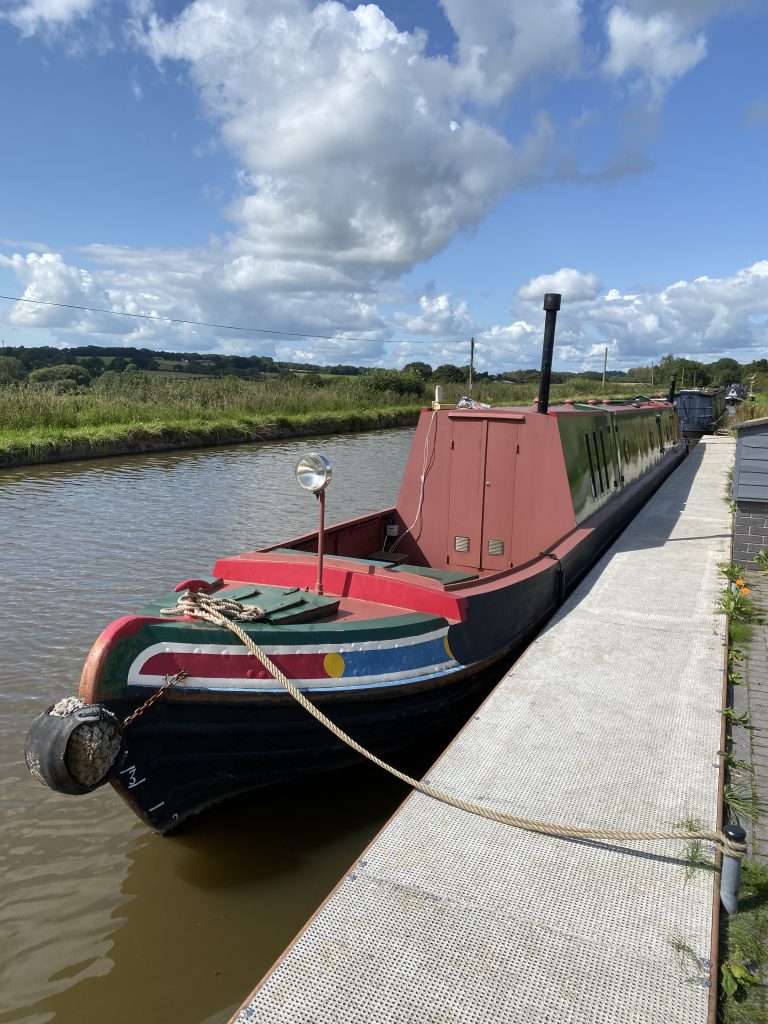 I'd allowed myself plenty of time to get to the station, my thought being that there are only a handful of parking spaces at Wrenbury so if need be I could leave the car at Crewe, though I'd prefer not to.
Half way between Market Drayton and Audlem I came to a stop. The road had been closed to allow a herd of cattle to cross the road. They were in no particular hurry on this sunny afternoon and after a couple of minutes I decided that would retrace my steps and go via the country lanes.
The risk with country lanes is something coming the other way, and sure enough I met a very large tractor towing a slurry trailer. There was no alternative but for me to reverse, not one but two passing points to somewhere that he could get past.
I was starting to think that this was turning into a comedy sketch when the next obstacle was a gentleman on a penny farthing bicycle, coming down the middle of the lane. I really wish I'd got a photo, but I was too surprised!
After that the journey passed without incident, but I was now down to about 8 minutes of free time before my train arrived. I was very glad to get over the level crossing at the station, as they close the gates so early these days, indeed just a couple of minutes after I arrived.
My "usual" spot was available so I locked the car and set off on my adventure.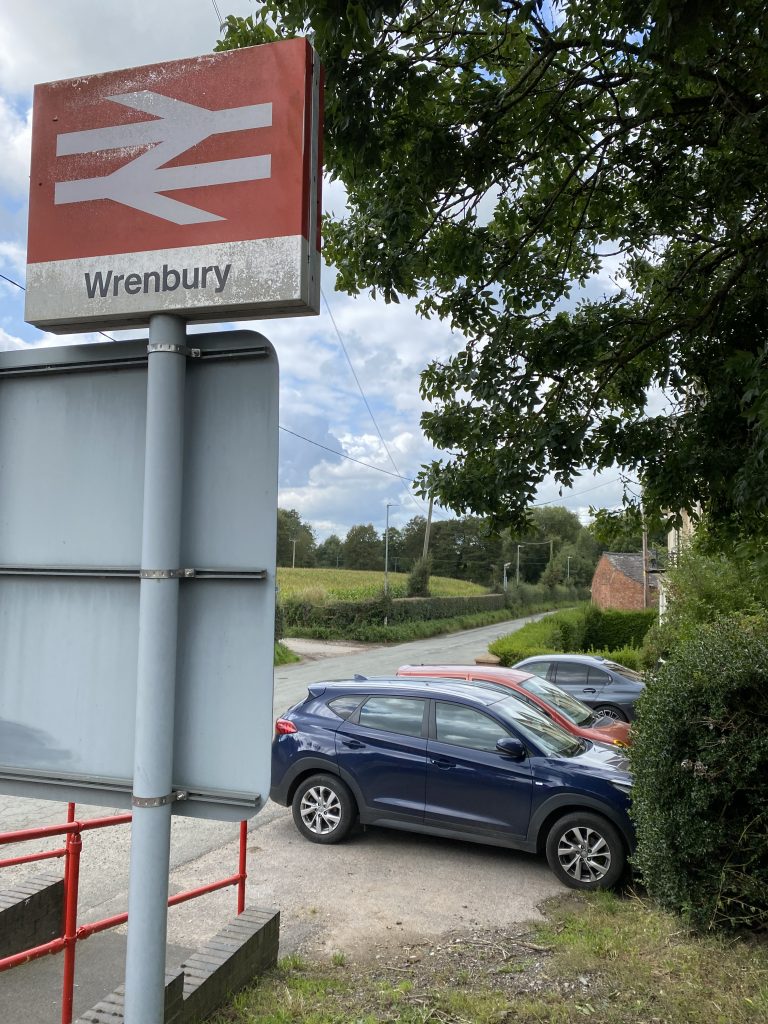 The train manager was a very friendly chap. I needed to buy a ticket for this one (it's not worth using a day of the pass for this trip) so when he saw my backpack and knew I was off to the airport, he asked where I was headed.
A conversation about Interrailing ensued. It turns out that he was also a fan, and had started his journey by flying to Kiruna, in northern Sweden, last year, before taking the exact reverse journey to mine as far as Hamburg. I'd passed through Kiruna on my way to Narvik, but had not stopped. It was interesting to get a different perspective on what looked to me like a remote outpost with not a lot other than the massive iron ore mines.
At Crewe I unexpectedly made an earlier connection than planned, to the airport. I was now too early to check my bag in, so settled down to do a bit of work. Or so I thought. The airport wifi was worse than useless. I tethered the laptop to my phone and tried that way, but there was next no coverage. I moved out of the terminal onto a connecting bridge, which was marginally better but certainly no use for what I needed to do. I ended up at the far end of the car park, setting up camp for an hour or so on the perimeter wall.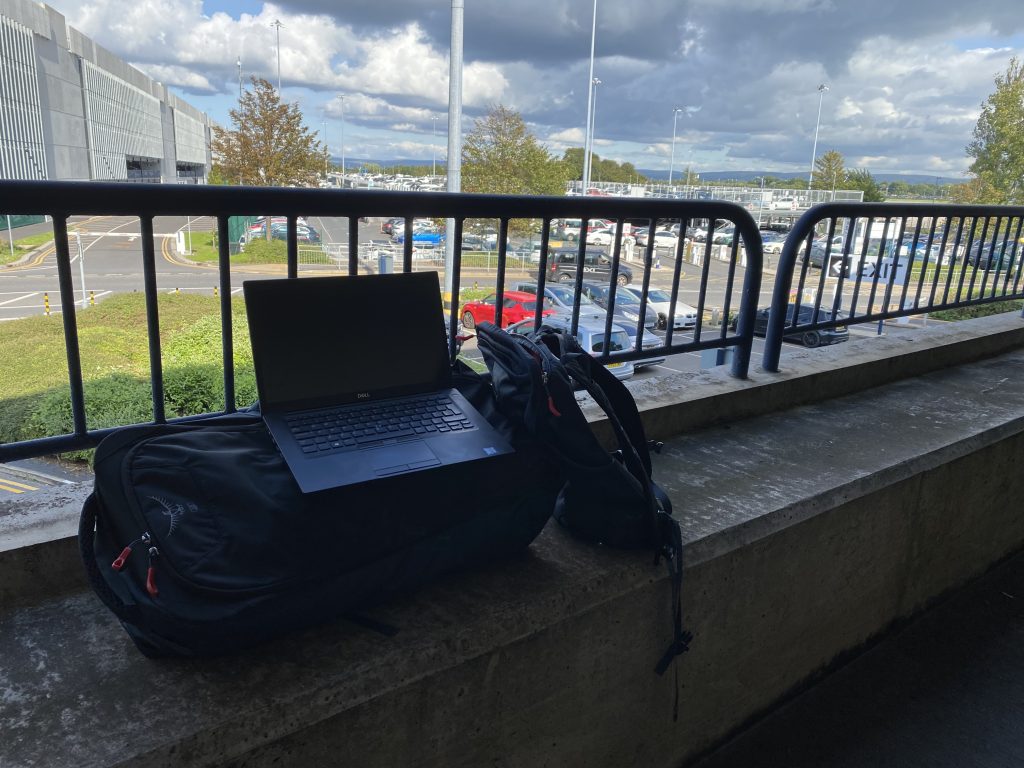 Having done the self check-in I was told that my bag was too long to go onto the standard belt. Odd as it has been accepted before and is in any case about half the size of a standard suitcase. Not a big issue but another queue to stand in before being told it was fine.
Security wasn't too busy so it was all looking good right up to the point that I arrived in the departure lounge to find that there was a near 2-hour delay on my flight.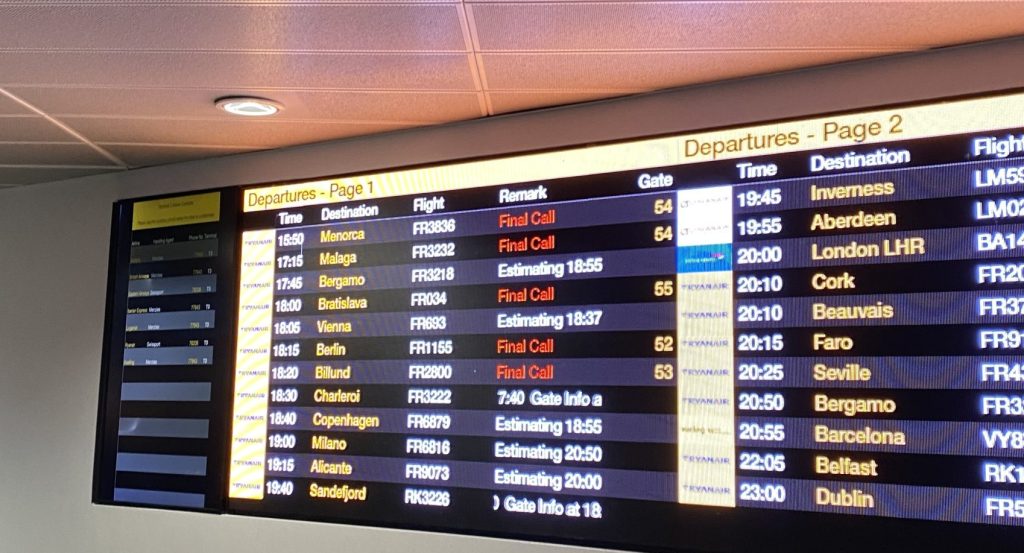 Ryanair have been making a big deal about their app recently – I looked and it had no delay reported. That continued as the pattern throughout the evening. The first screenshot below, saying we're on time, was taken an hour after the photo above, reporting the delay.
No useful information appeared on the app until well after it had appeared on the screens in the airport, indeed I was already in the gate queue as it told me what gate to go to (though still not what time we would be departing.) The push alert feature didn't work either, it is meant to put urgent alerts onto your lock screen. Hmm…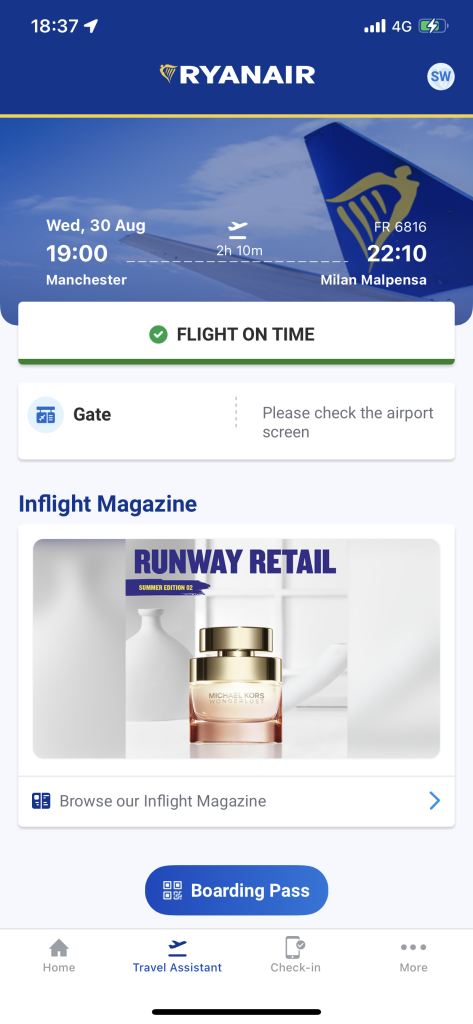 Conversely, all credit to Manchester Airport. The revised departure time that I'd read on their information boards at 5:15pm was out by only 15 minutes; we left a touch after 9 against a 7pm schedule. The Ryanair app finally reported the new departure time at 8:30, after the gate had closed, so not brilliant.
The flight was uneventful and touched down at exactly midnight.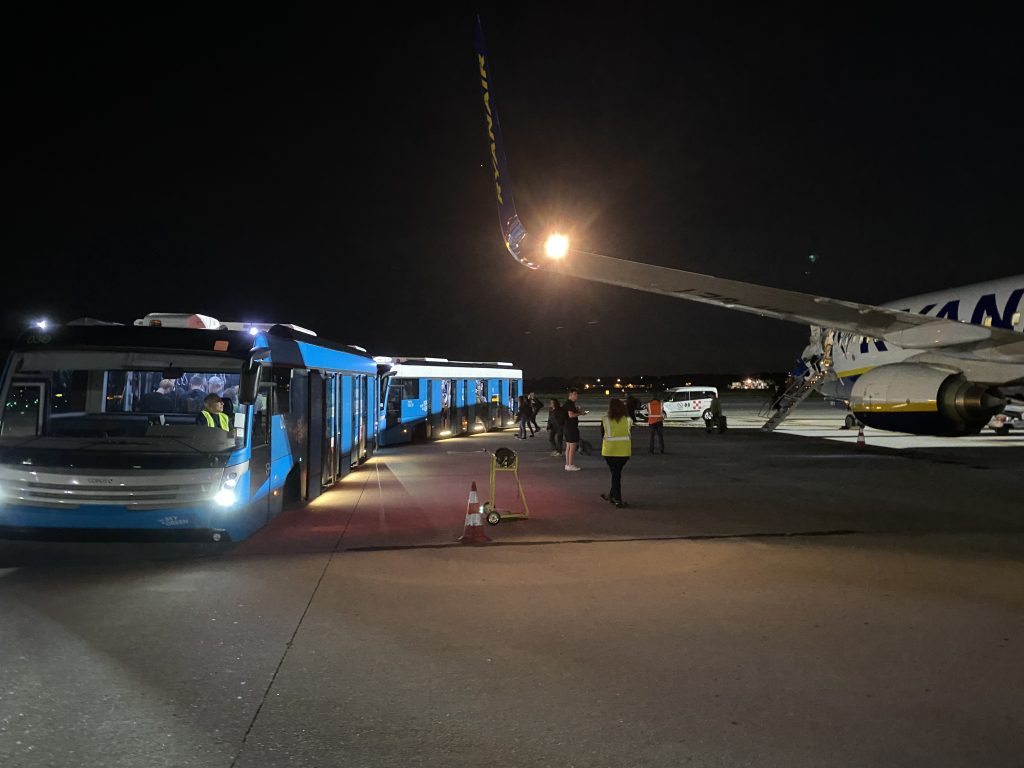 I'd booked a flexible coach ticket into the city, and the next one departed only 20 minutes after cleared security and collected by bag.
At Milano Centrale I decided it was too late to walk to the hotel, so I jumped into a taxi. €14 for a trip across the city was a bit steep, but in the circumstances I was glad to finally be here.
It was nice to be back at Crivi's. I've stayed here before and it's a super place. Even at 2:30 there is a friendly face and you are made to feel welcome. I fell into bed within minutes of reaching my room. A long day, but yes, it's lovely to be back in Italy.
Postscript
The following morning, I picked up an email from Ryanair to say that as my flight had been delayed by more than two hours I was free to change to another flight. It was sent over three hours after I had landed. Later on in the morning I got another message from them to make it very clear that it wasn't their fault. An interesting approach to customer service.