The focus for today was a concert in the evening – I'd travelled yesterday so that I could be sure that I wouldn't miss it – but before that a day at my desk beckoned.
I'm quite accustomed to working while I travel. It is the trade off I've made that allows me to spend so much time away from home. Technology now allows working from home to be working from anywhere on the planet with a decent Internet connection. For example I'm typing this on a train, connected to their free wi-fi.
After an excellent breakfast in the hotel I settled down for the day.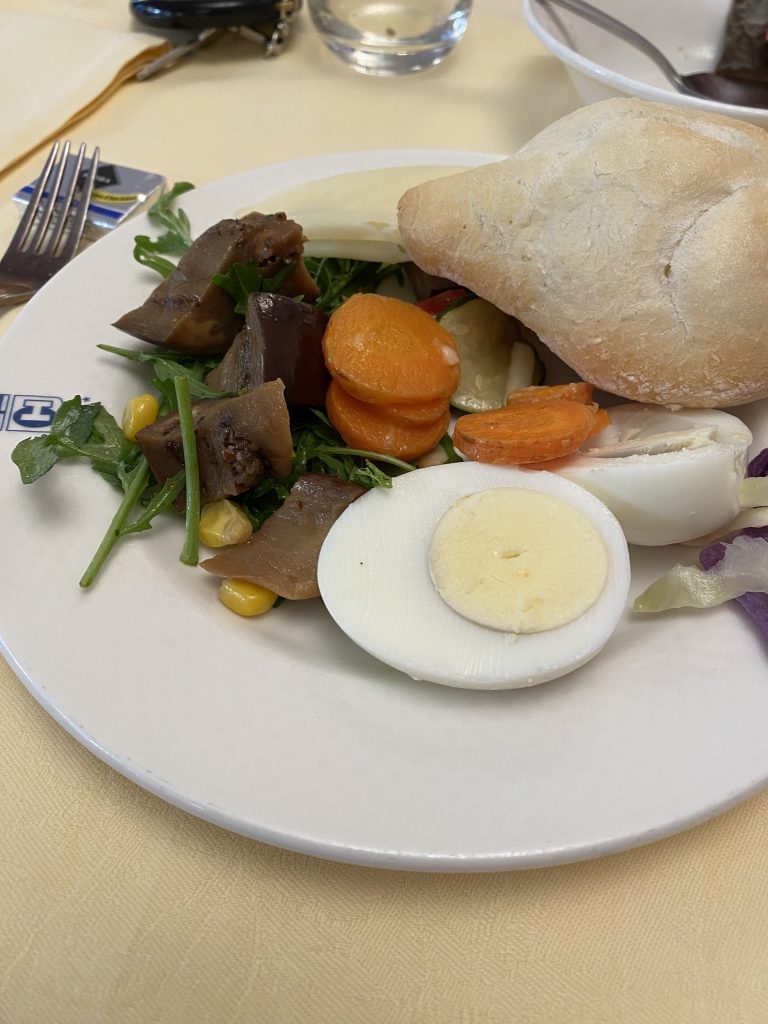 For a few hours everything was fine but around midday I was thrown off the hotel wi-fi. I tried to reconnect but it wasn't having it. Instead I linked the laptop to my phone and carried on that way. The phone signal wasn't great in the room so I put the phone on the window ledge outside. This isn't as risky as it sounds, I was on the first floor at the back of the hotel so outside was not a place that anyone would be walking.
After our usual Thursday 1pm catch-up call I went out for a late lunch. For me it was now 2:30pm and I was ready to step away for a while. I walked down to the Navigli area, about 15 minutes away, where I knew there was an excellent Sicilian food shop, and had arancini, which have become a bit of a treat over the past year. I wandered as I ate, in this lovely part of the city.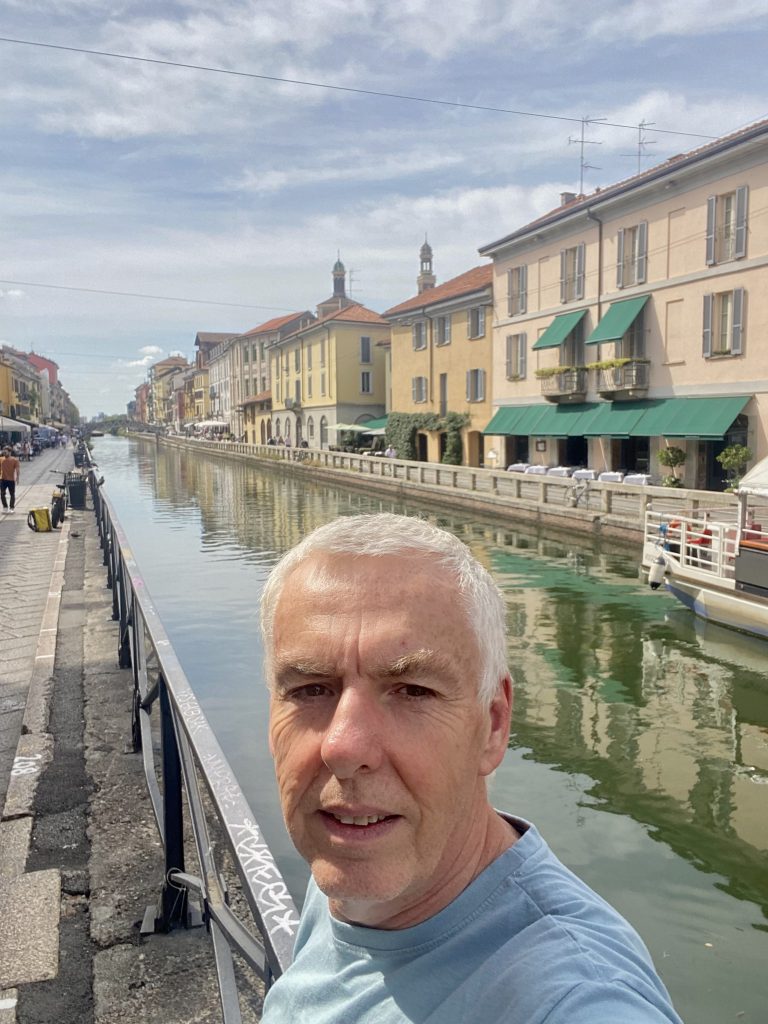 I walked back a slightly longer way around, passing another historic area which I'd seen from a tram when I was in Milan a few months ago.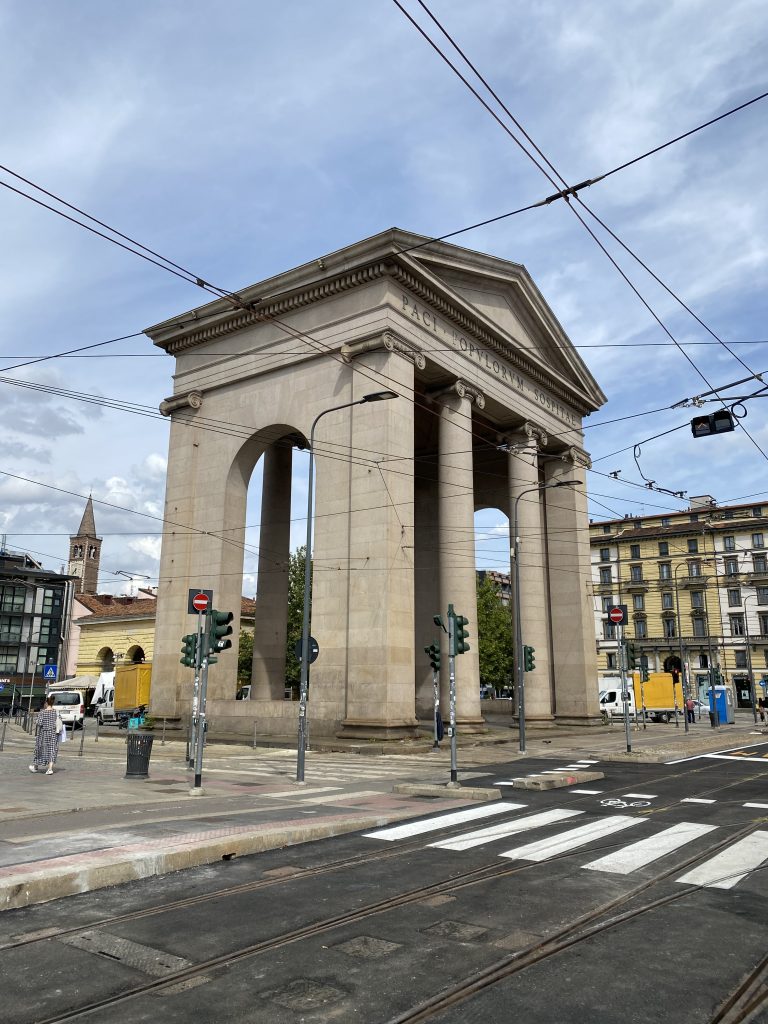 I spoke to reception back at the hotel, about the problems with wi-fi. They had restarted it after someone else commented about it being slow, but thought that it was due to with the number of people working from their rooms that day. That explains why I'd been thrown off it unexpectedly this morning.
The rest of the day passed without further problems. I finally packed up at about 6:30 and walked into the city to meet my friend Gilly, and another friend of hers for an early dinner. We found somewhere to eat and I was telling them about an excellent dinner I'd had when I was here in October 2022. I'd not realised that this was the definitive local dish, Risotto alla Milanese. I couldn't resist trying it again, and it didn't disappoint.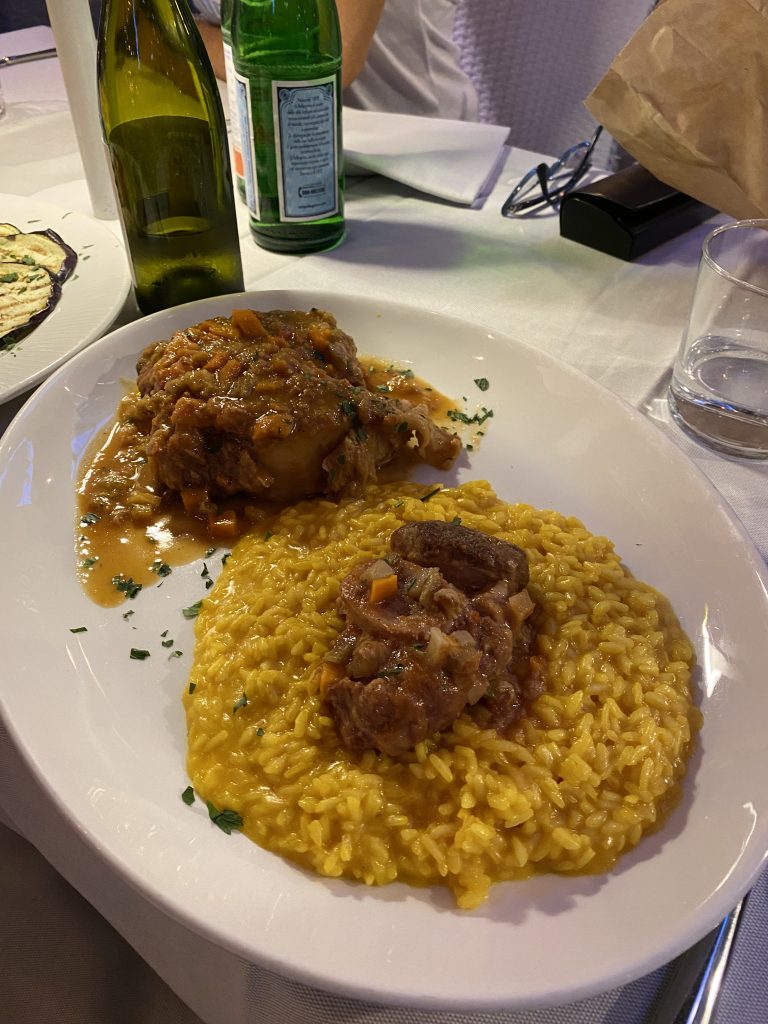 I've been to the castle before, but not for a concert. When I was here last year the front was largely blocked off as they were working on remodelling the entrance and laying new pavings. It's nearly finished now, so it was good to see the castle properly as we queued to enter.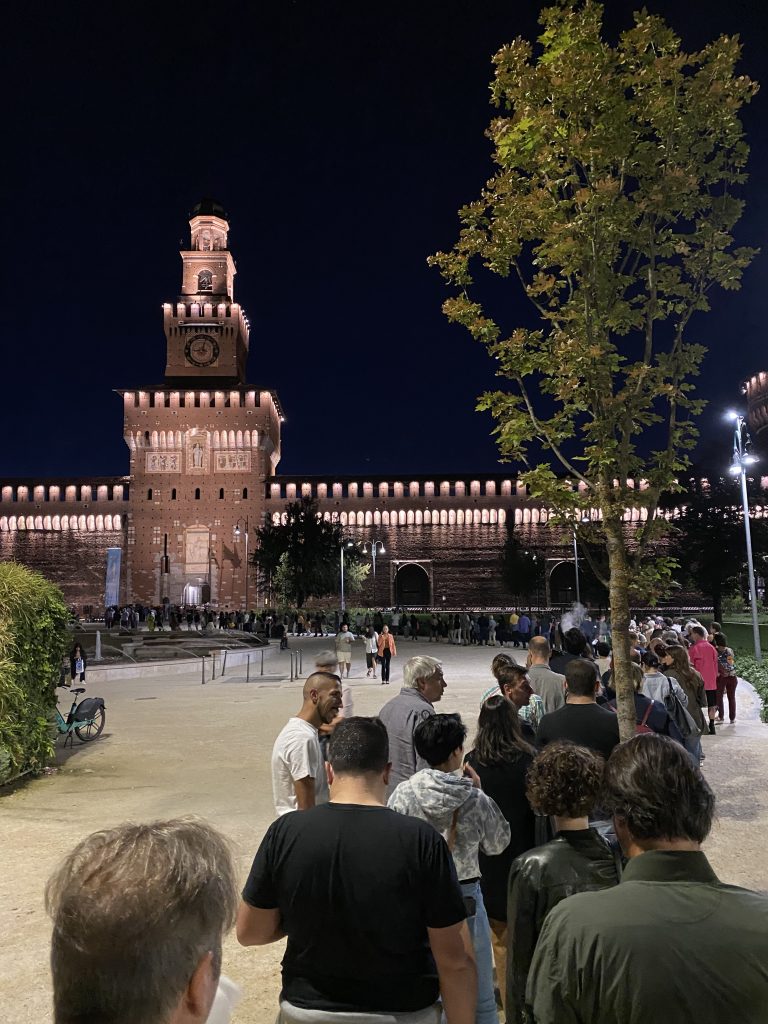 I hugely enjoyed the evening. Carmen Consoli played a solo set, which I think was the best I've seen her do this year. Elvis Costello then did a set with Steve Nieve. I've not seen him before, but have listened to his music for most of my life. His voice is struggling on some material these days, which is a shame as on other tracks he completely nailed it. Watching the Detectives was the absolute highlight. He is a natural performer, and a super guitarist, so it's a shame that the vocals diminished parts of the set.
Finally Elvis and Carmen, plus their respective bands, joined forces for a set of both their own and other artists material. The affection they have for each other is clear, and I was glad to have been there.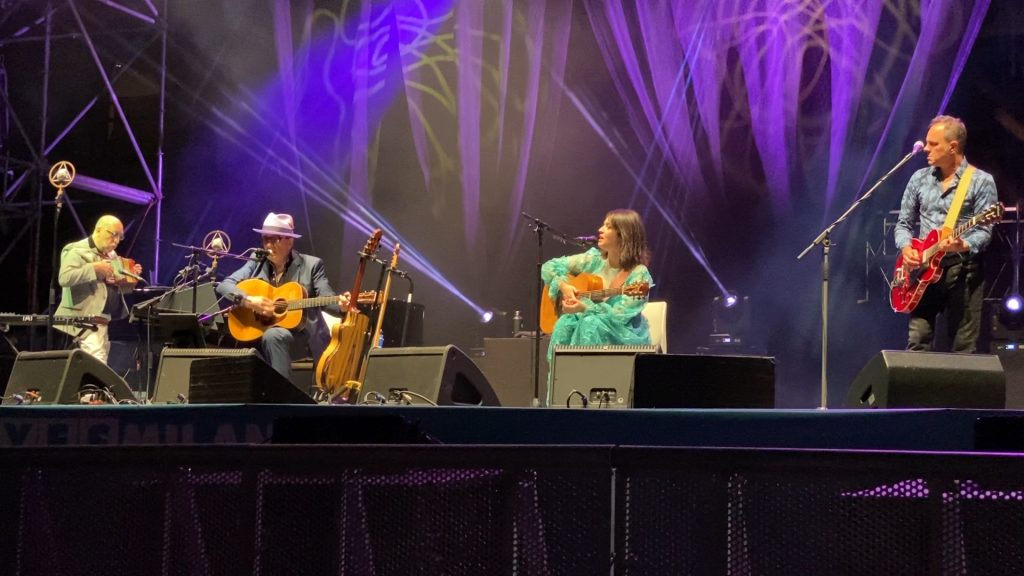 As we left I photographed moon over the castle walls. Elvis had referred to it in his set as it rose in front of him and behind us. He told us all to turn around and look at it, and that we were all going to go mad, partying under a full moon. After saying goodbye to my friends, I walked back to my hotel, via the city centre, which always looks stunning at night.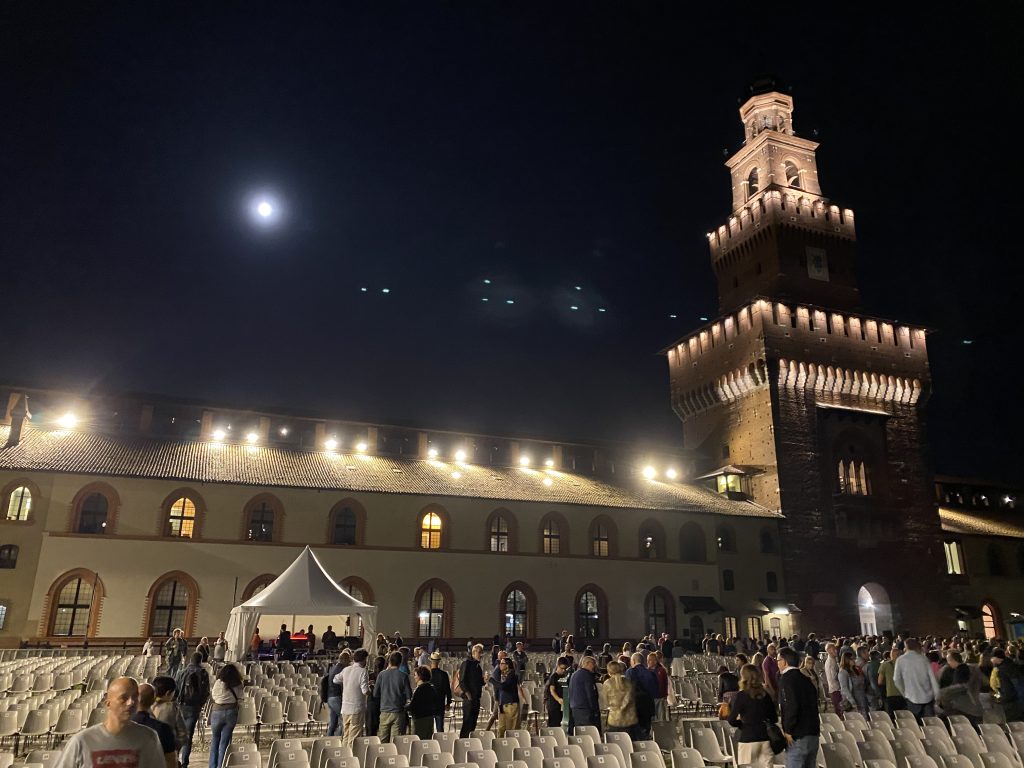 Just as I was arriving back, I received a message with the friends I'd left shortly before, singing Happy Birthday to me, in Italian. I'd completely missed that it was now gone midnight, so that was a lovely end to a super evening.