Dieppe – Newhaven – Brighton – St Pancras – Sheffield – Stockport – Crewe – Wrenbury
This final day of the adventure had a lazy start. My ferry from Dieppe didn't begin check in until 10:30, for a midday departure. I took a late breakfast, then wandered across town to the port.
The inner basin is non-tidal and there is a single set of gates separating this from the outer basin. The lift bridge also would need to be opened for craft to enter or leave. I'm surprised they don't have a lock here, the single gates must give them a very short operating window.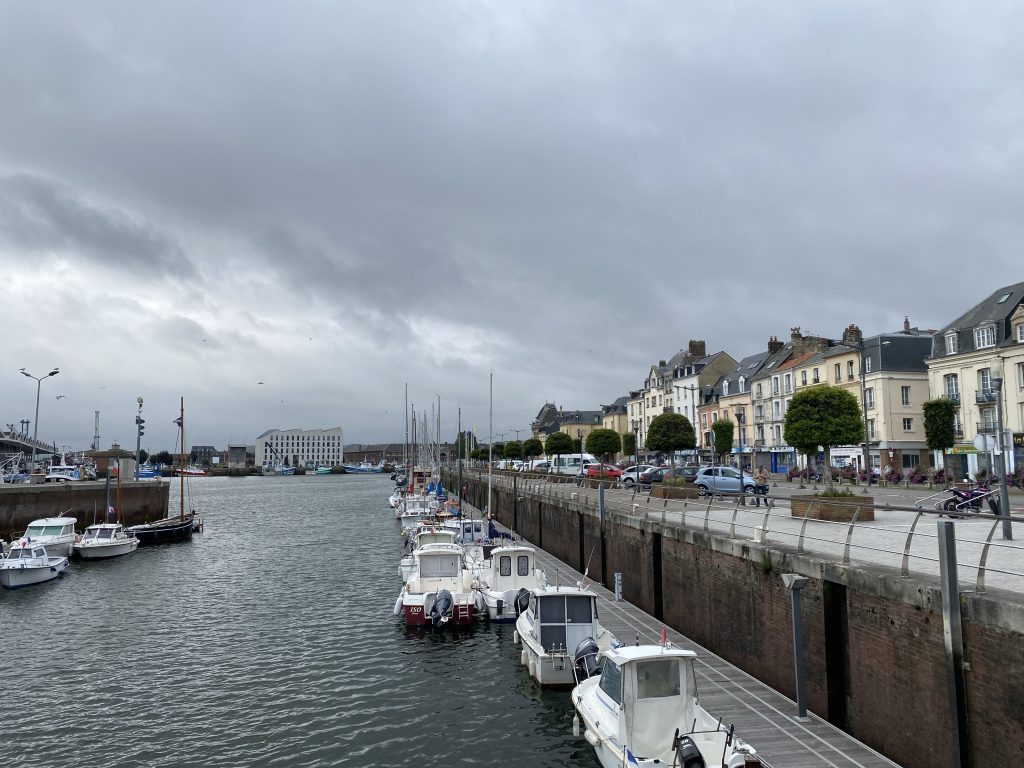 A little further along a more substantial swing bridge leads to the commercial docks. There is also a slipway in this area.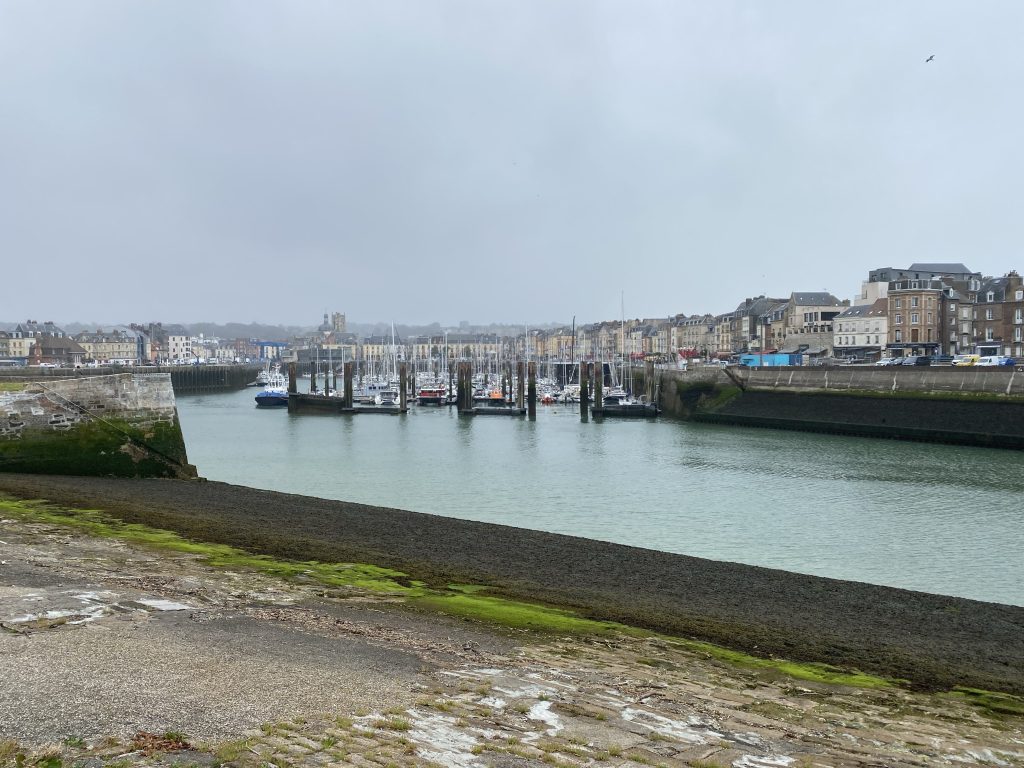 The ferry port is just on the edge of the town, beside a section of white cliffs. not the most welcoming of places, especially as a foot passenger.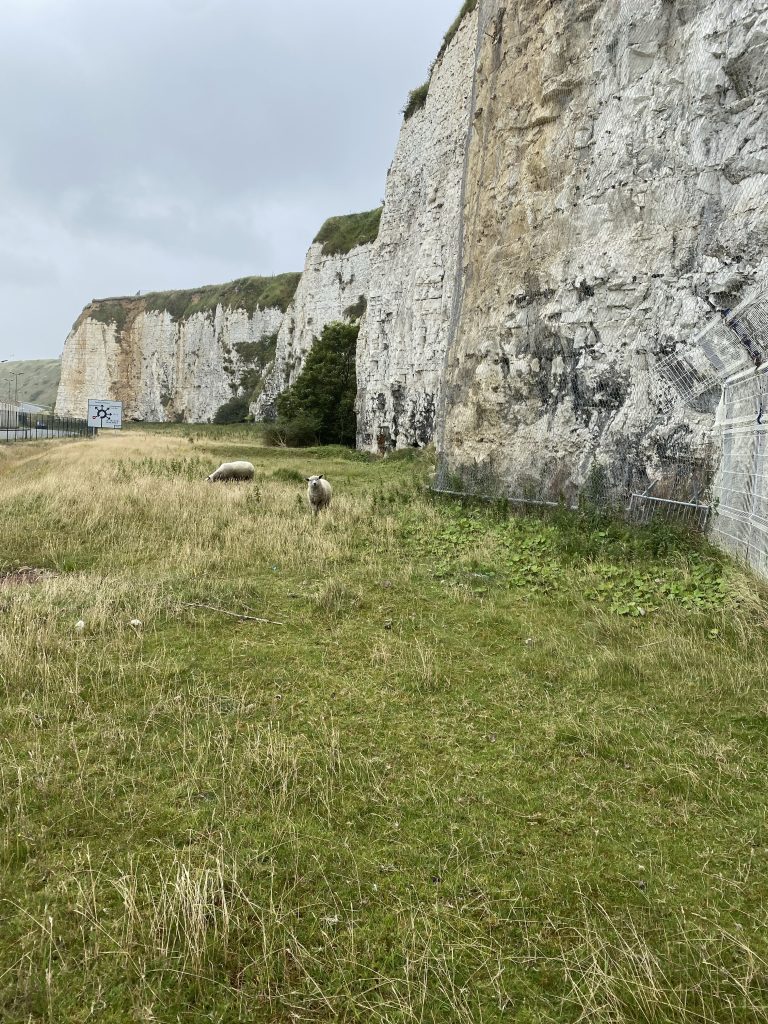 I was surprised by the number of foot passengers on this service. To be fair it is half the price of the other nearby ports, but is impossible to get to by public transport from anywhere outside Dieppe on a Sunday morning. One of the things I have spotted on this adventure is that the various ferry ports only really care about cars. Neither Cherbourg nor Roscoff has rail links that align with the departing ferries. St Malo does, but is a very long crossing. I chose to make it an overnight stay when I did it a couple of months ago.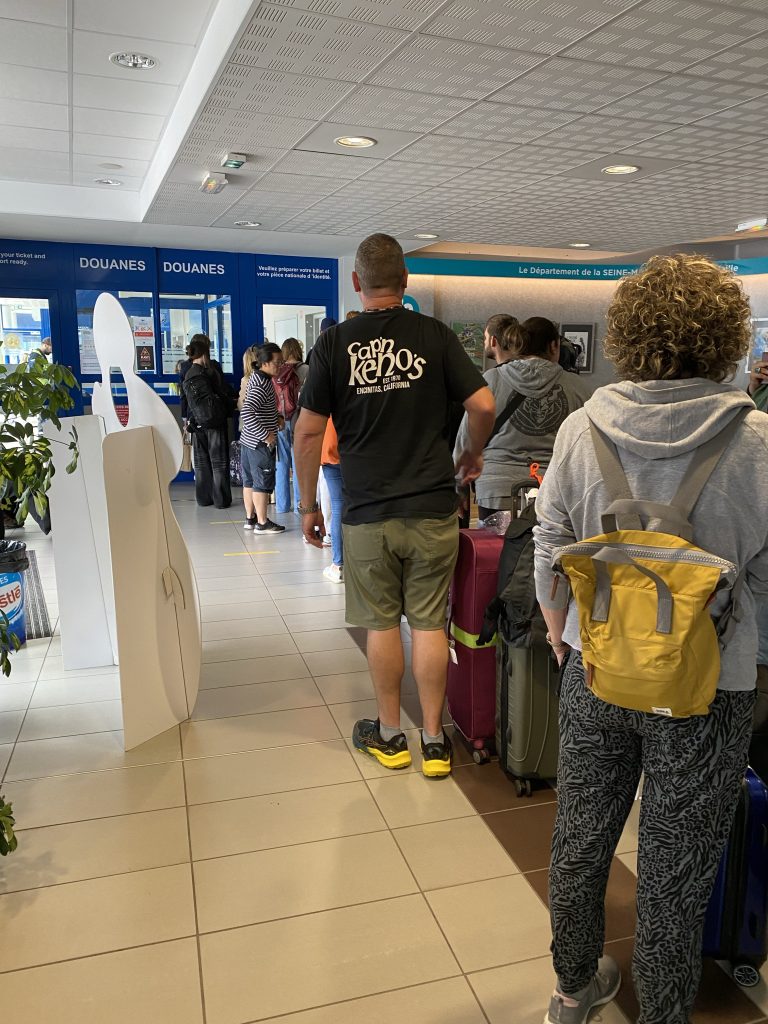 The customs process here had two different passport checks, with security between the two. I'm not sure what that was about. The second one was where my passport got stamped. It occurred to me for the first time that I could be at risk of filling it. It already has 5 pages filled, despite only being 6 months old, though I guess it is unlikely that I'll continue this years rate of travel, unless my premium bonds come up!
There were two coaches of passengers to take to the boat. A bit of a contrast from the half-full minibus in Rosslare a couple of months ago!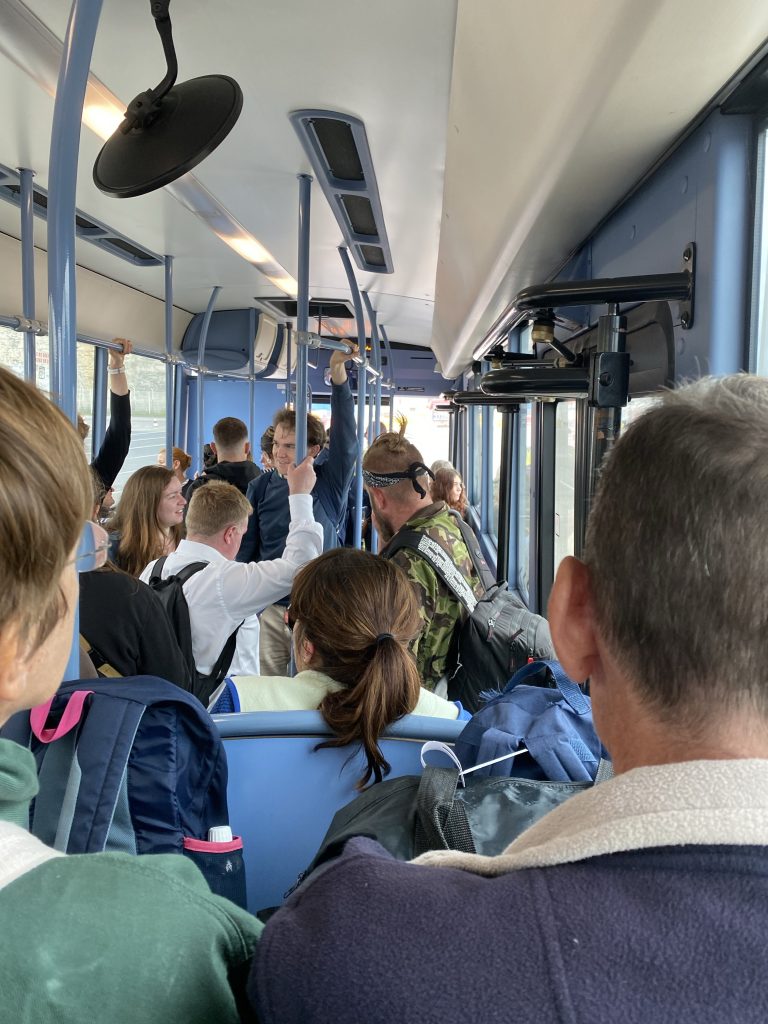 I've not travelled with DFDS before. This was a somewhat tatty-looking harbour (and boat) from the outside, and I was wondering what I'd be getting for my £31, but the interior was fine. There were enough seats and a range of facilities throughout the boat. I'm not sure the engines are terribly environmentally friendly though! Most importantly we were on our way on time and the French coast soon disappeared from view.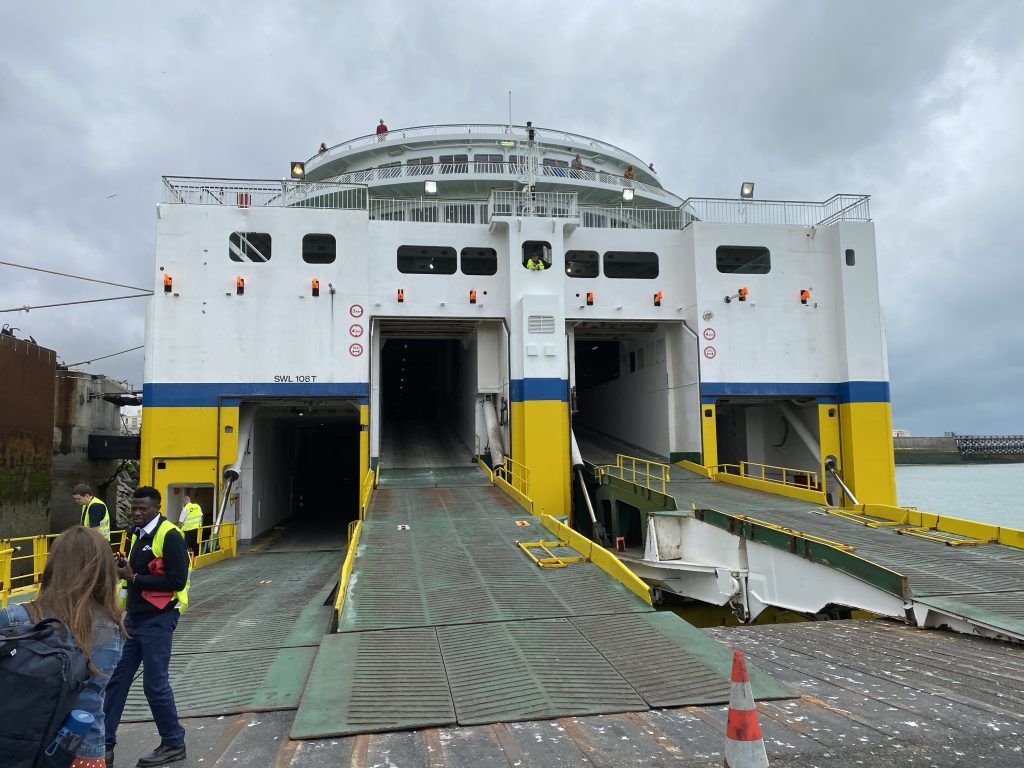 It bounced around a bit more than I was expecting, as the seas did not look particularly lively. After disembarking I read a BBC News report about the number of boats that had dropped out of the Fastnet race the day before, so maybe I shouldn't have been surprised. After a dreadful ferry experience between Dublin and Holyhead at the start of this year, I'm even more aware than I was before of my motion sickness.
That said, the bumpy bit was only for a relatively short time in the middle of the Channel and I was able to relax for the rest of the trip. I enjoyed the approach into Newhaven, which has the iconic White Cliffs at Beachy Head to the east.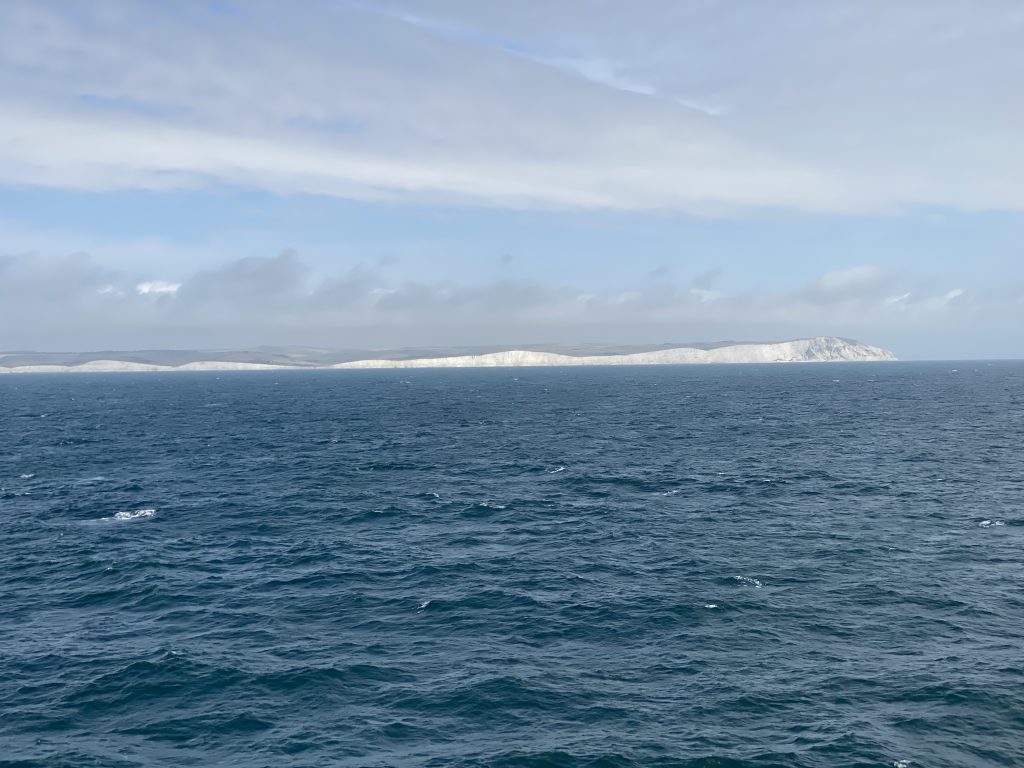 Foot passengers were the first to unload. Back in the old days (pre-Brexit) we would have grabbed our bags, walked off the ship and directly onto the platform of Newhaven Harbour station, literally next to the ramp, and just about visible in this picture.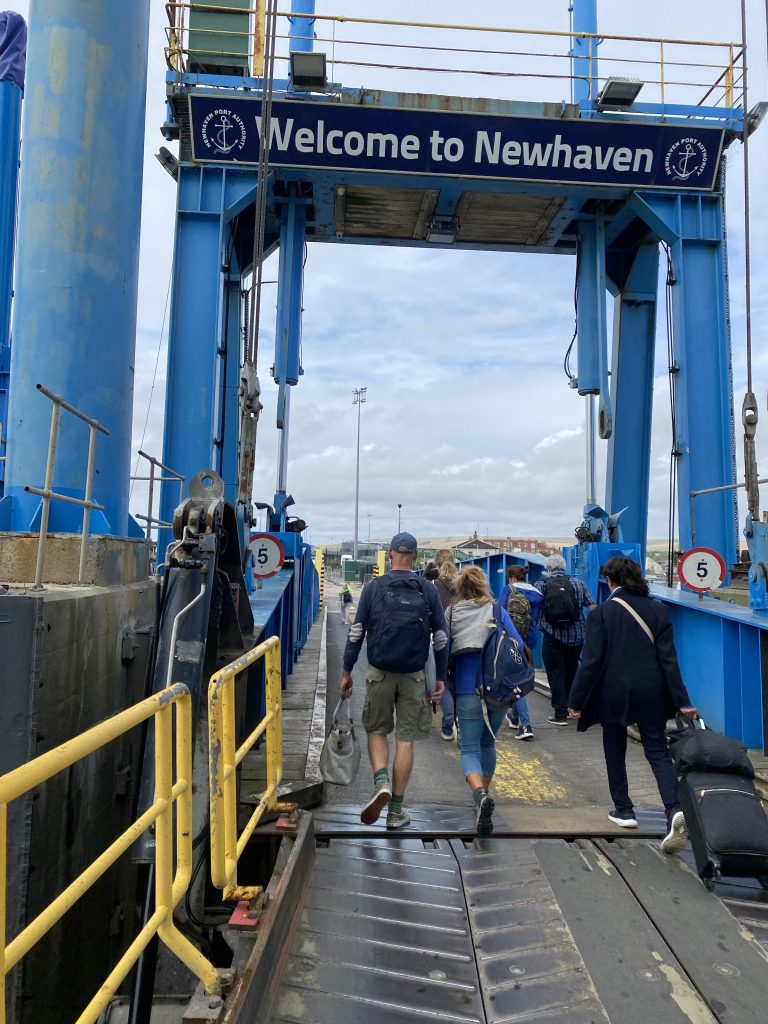 Not any more, there is a bus to the terminal, then border control and customs. The bus driver had no joy whatsoever trying to persuade passengers that they needed to walk through not around the security scanners. This photo was taken standing in the doorway of one of the buses.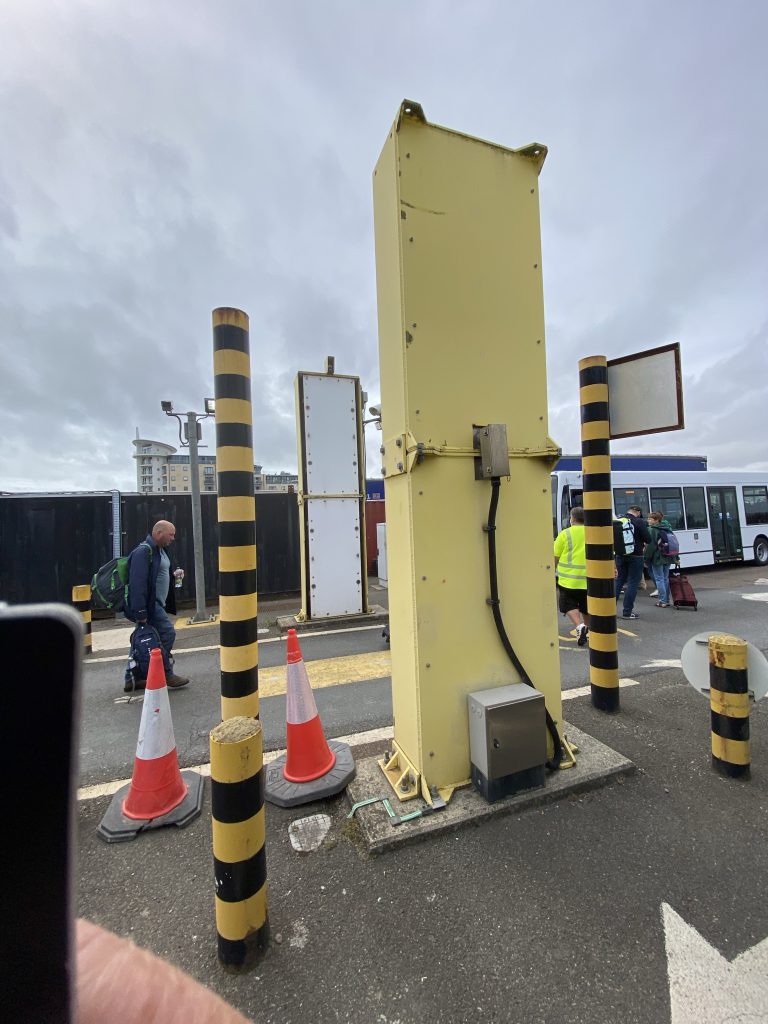 We then had to wait nearly half an hour for our bags, which were only taken off the ship after the cars had left. That certainly wasn't great and there were a number of us anxious about making our train connection. I did have (two different) contingency plans but given that I was using my Interrail home country travel day, I wanted to make best use of it rather than taking the short/direct route home.
The bags came out six minutes before my preferred train was due to leave, from Newhaven Town, not Harbour. Having first mistakenly walked across the car park directly towards the station, only to find a security fence on that part of the perimeter, I took the long way around and made it onto the platform with a minute to spare.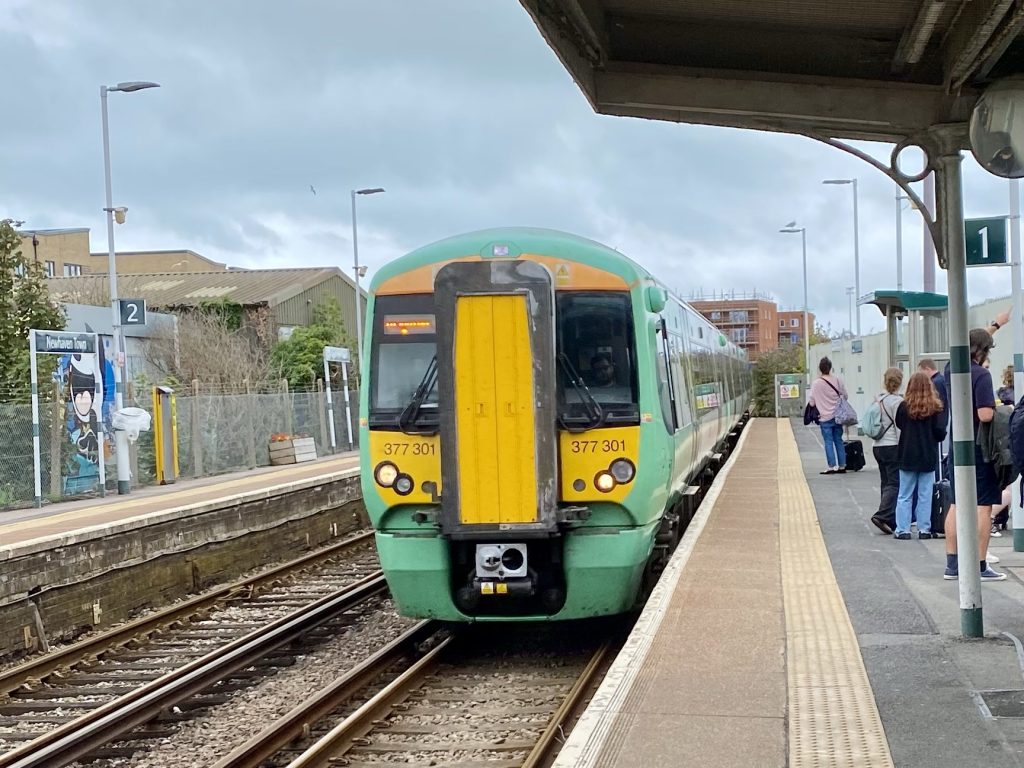 The train was heaving, mostly with people on their way to see The Who gig in Brighton that evening. I'd been sorely tempted to join them when I realised a couple of weeks ago that I'd be passing through on the same day, but the weather forecast put paid to any idea of that.
Brighton is a station I've always liked. I just about had time to grab a few snaps before jumping onto my next train, which was one of the Thameslink services to Cambridge.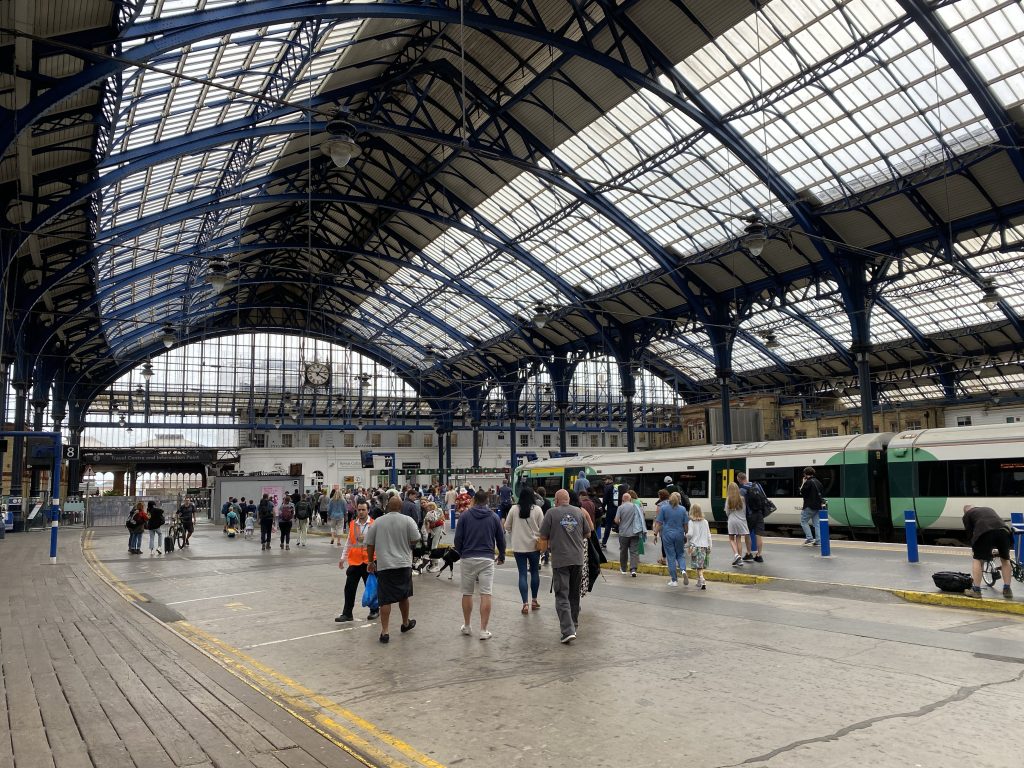 Thameslink services are great as they avoid the need to get a tube across London. In my case I could get off at St Pancras and simply change platforms.
Blackfriars station is on top of the river, but you don't necessarily see anything as it has multiple platforms. I momentarily saw the river through the windows of the train next to ours, though did get a decent view of St Paul's Cathedral from a slightly different angle as we approached.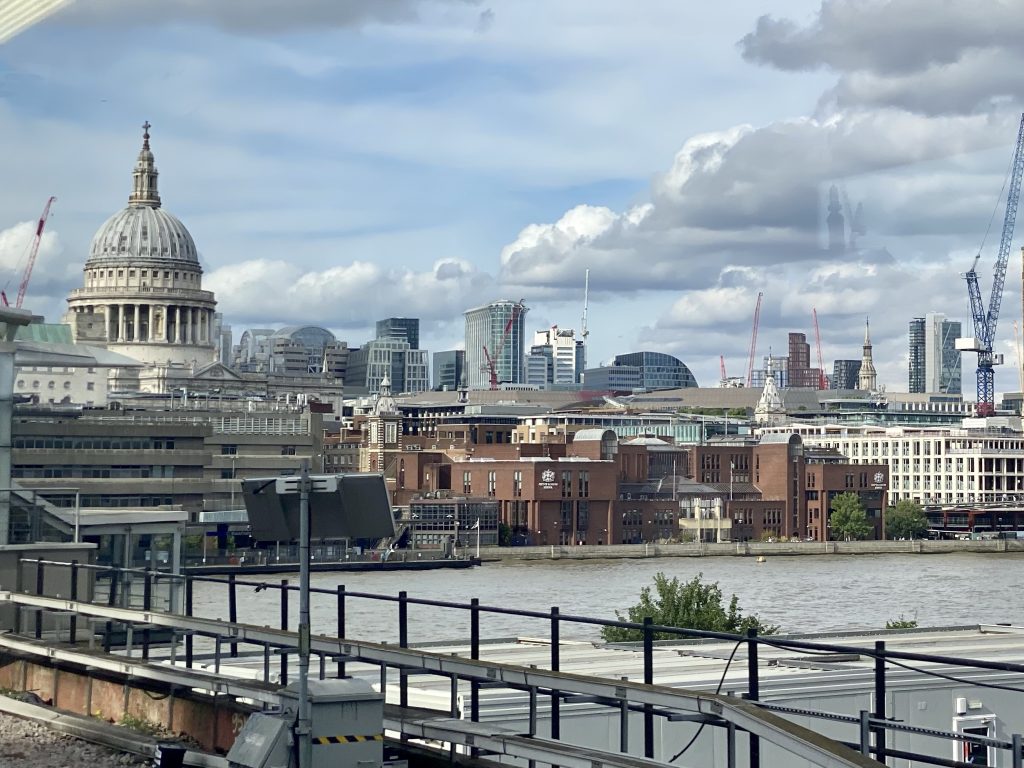 I'm pretty sure this is the first time I've used St Pancras to change trains where neither of the the one I was getting off or onto was a Eurostar.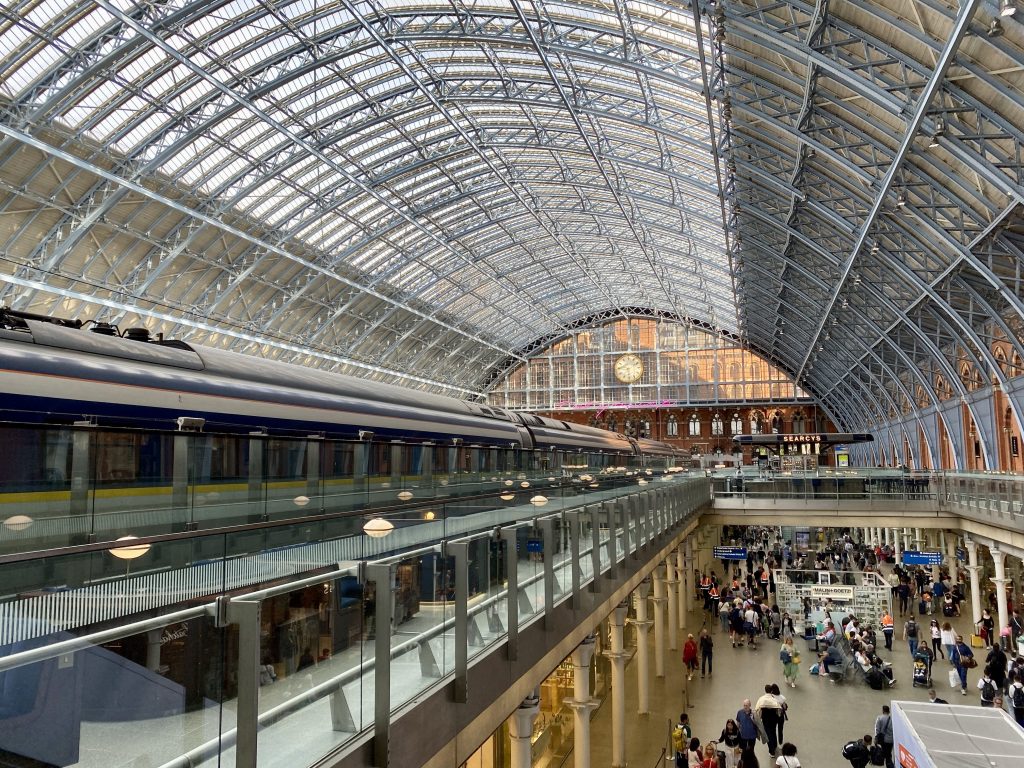 My service to Sheffield left on time and was surprisingly quiet. I grabbed a vacant seat in First Class, only to then hear that being Sunday there was no catering at all on this two hour journey. Great, I eked out my quarter full bottle of water to last the two-hour journey. As well as catering it is evident that no cleaning staff are employed on Sundays. The train I got onto, which was starting it's journey had rubbish on the tables and the floor was filthy. This was First Class, I wonder what Standard was like
It was raining quite heavily in Sheffield. I took the obligatory snaps on the station, but wasn't going to step outside to get one of the rather unusual frontage.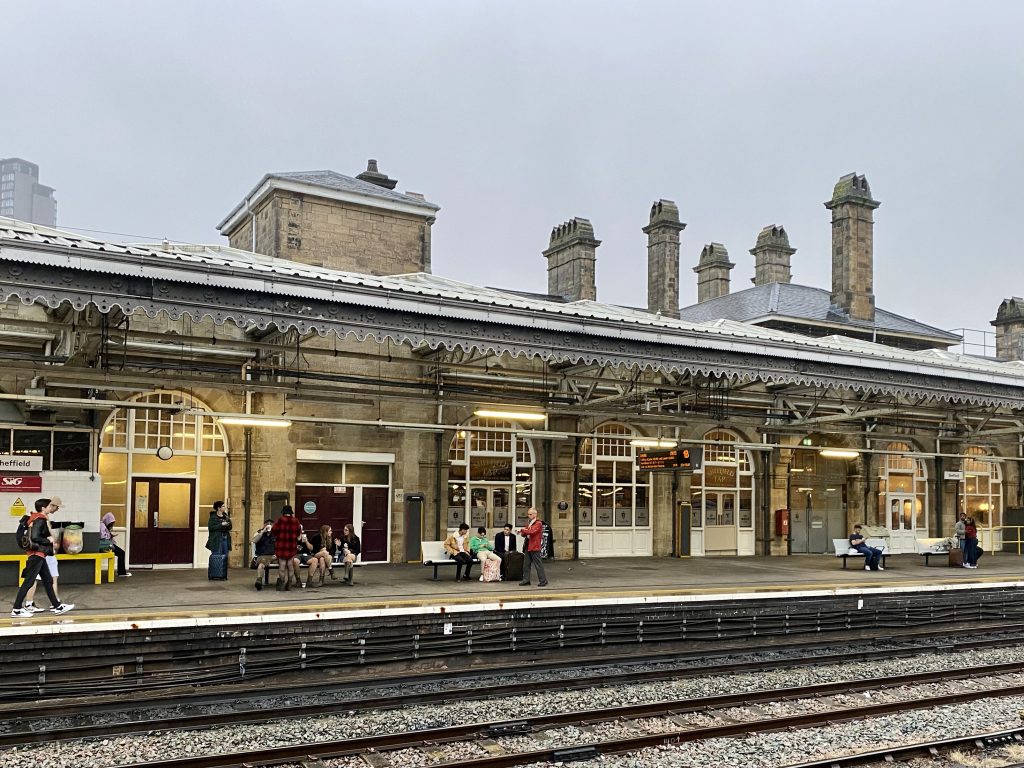 My Interrail planner had me due to wait an hour in Sheffield, but there was a Stockport train 20 minutes later and I preferred get the miles under my belt while I could, even if there was no earlier service for the final leg.
It's a shame it was both rainy and going dark, as this is a lovely journey that I've not done in a long time. At least I got a few glimpses of the fabulous Peak District scenery.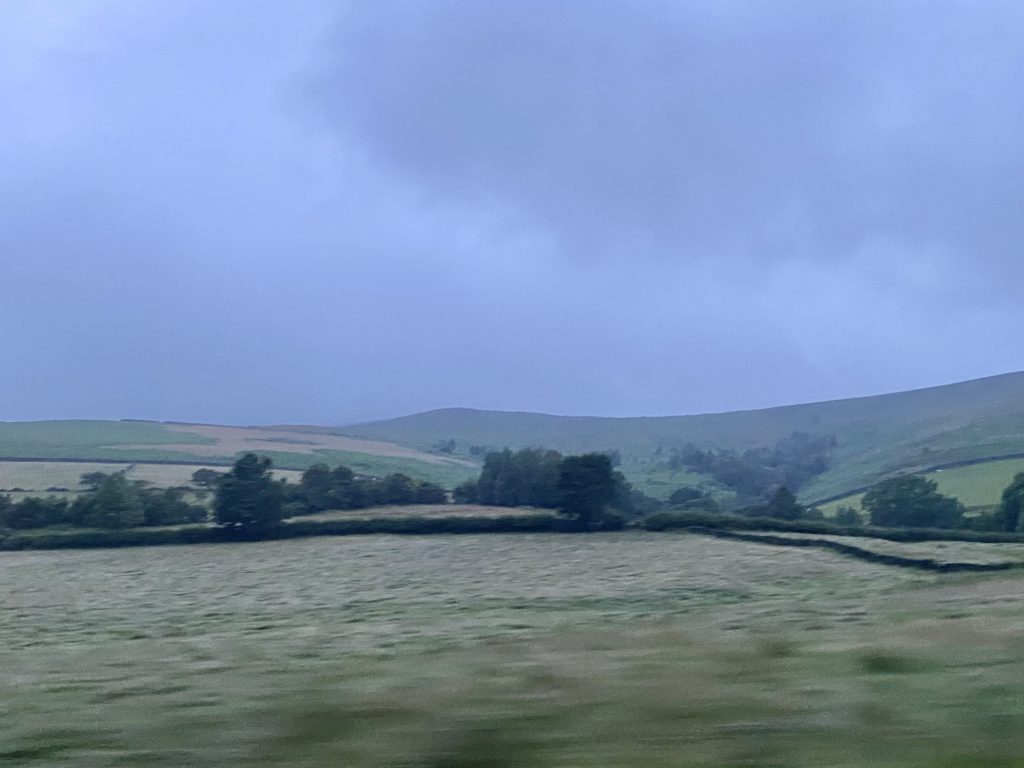 Maybe I'm spoiled by having spent so much time on trains abroad but so much of the rail network here just shoddy. I was thinking about this whilst sat on a filthy overcrowded train with broken information sign and light fitting hanging off. I'm sure you wouldn't see this anywhere else.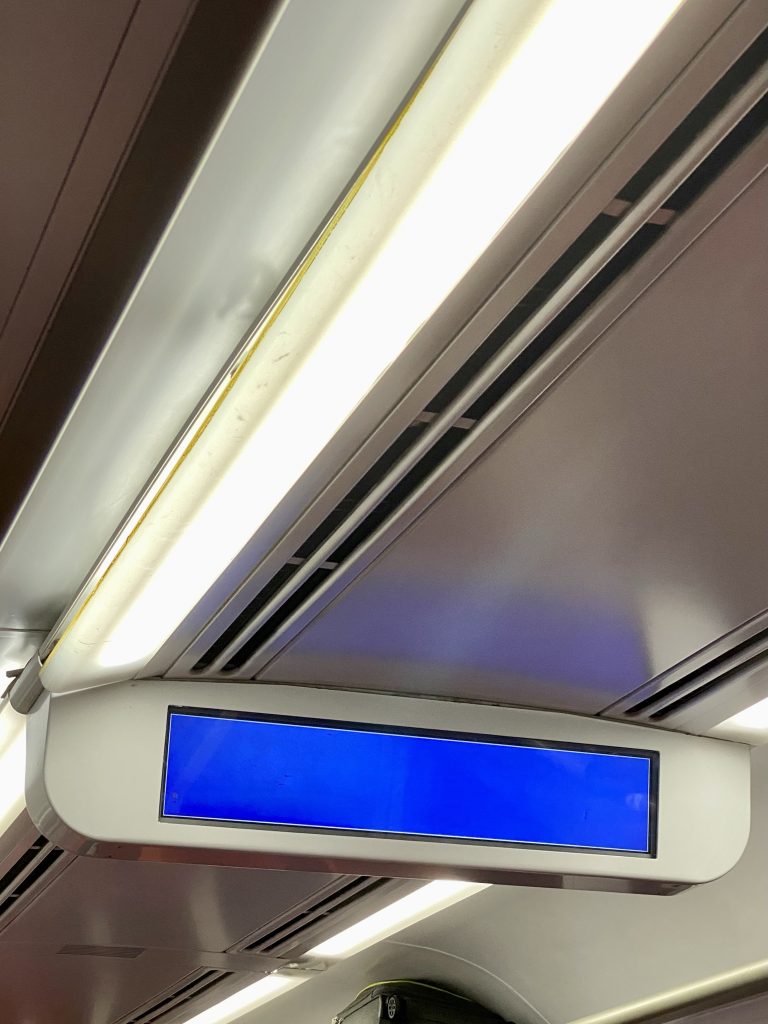 It was still raining by the time I got to Stockport. Again there was an earlier connection, which is good as it really is the most exposed of stations on a Sunday night, being high above the valley at the end of a viaduct.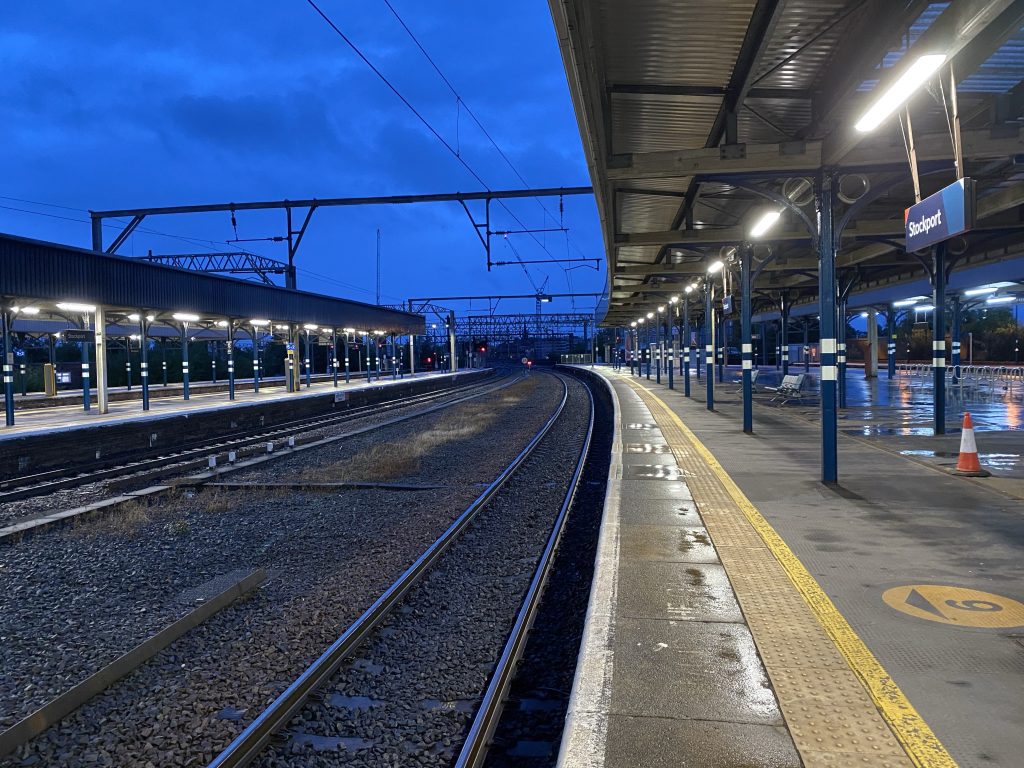 All this free time bunched up when I got to Crewe. I now had an hour and a half wait for the final train. At least it wasn't a bus replacement, which it would have been if I'd got home any earlier. I made a couple of phone calls then nipped over the road to get some milk from the Tesco petrol station, to tide me over in the morning.
Crewe was also wet. I had to dig out the raincoat that I'd carried with me for the last 12 days and not once got out of my bag. Indeed it was one of only two things from my luggage that had not been used at all, as I've got packing down to a bare minimum. (The other was spare/emergency footwear, so there would be no repeat of my unfortunate Helsinki incident.)
The final train of this adventure had been moved to platform 12. I had to check the overhead signs as I don't recall when, if ever, I'd been out that way other than to catch a replacement bus service!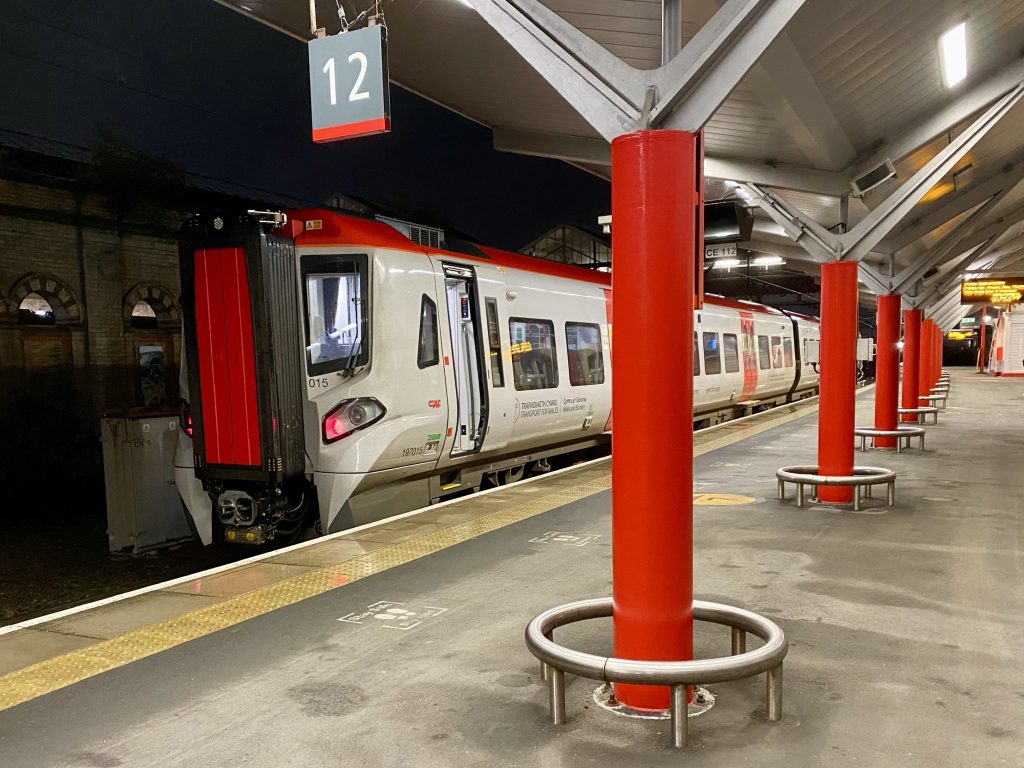 Wrenbury is a request stop. I met the the train manager in the middle corridor as I was looking for him at the same time as he was coming down the carriages taking requests (there are several on this line to Shrewsbury.) We arrived exactly on time, still in light drizzle.
I waited for the level crossing barriers to lift before collecting my car and heading home, arriving at almost exactly midnight.