Geneve – Lyon Part Dieu – Nantes
I woke earlier than planned to a sound I've not heard in a while – rain on the window. It didn't last more than a few minutes, but was enough of a surprise to get me up. I showered, dressed and headed to the station. I'd not booked breakfast in the hotel (too many consecutive hotel breakfasts are too much for me.) I stopped at one of the Co-ops on the station (yes they are everywhere) and bought a fruit salad and bottle of water.
I rather liked the maps on the walls in the main entrance of the station. The style reminds me of the pictures in Basel station, though I shouldn't be surprised by that, I guess.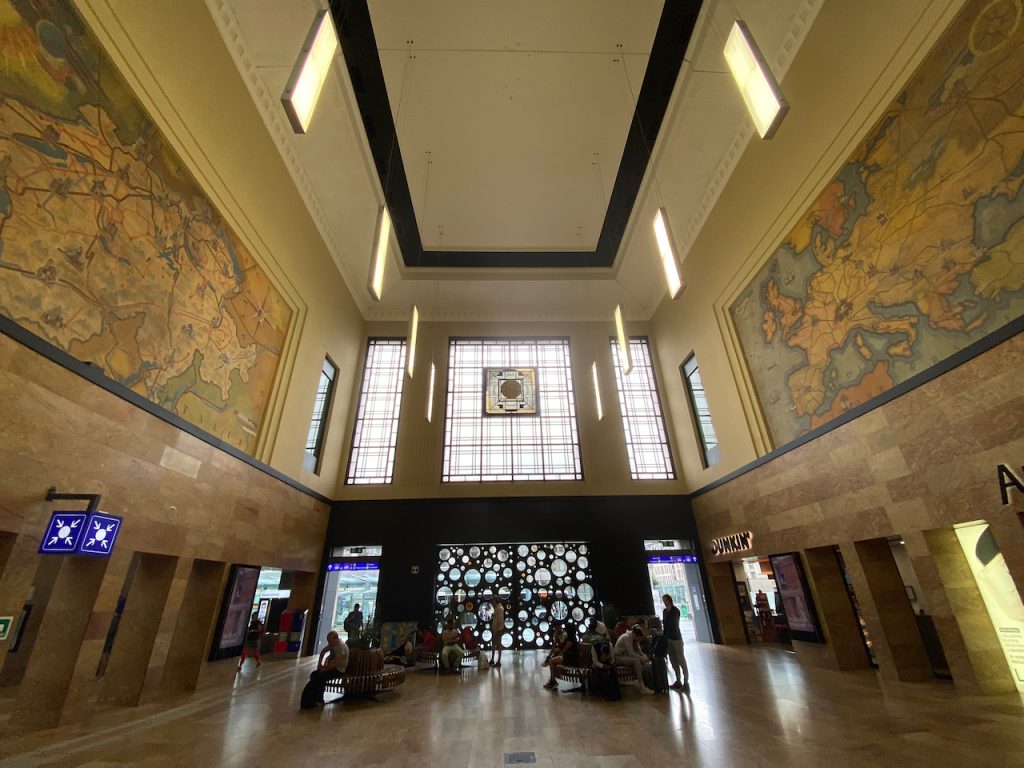 I had not expected that to leave Switzerland I would need to go through customs, but a section of the station is separated from the rest, with a French customs point. I got out my passport and ticket, and headed for the checkpoint. Just I was getting to the bag check counter the officer walked away leaving the checkpoint open and unmanned. I walked through, as had the couple immediately ahead of me. Odd.
According to my map, the line leaves Geneva, and Switzerland, very close to CERN, though I couldn't see evidence of it from the train (and yes I do know that the main part is underground!) I know a few people who have visited and one who has worked there. It's somewhere beyond the trees in this area, I think.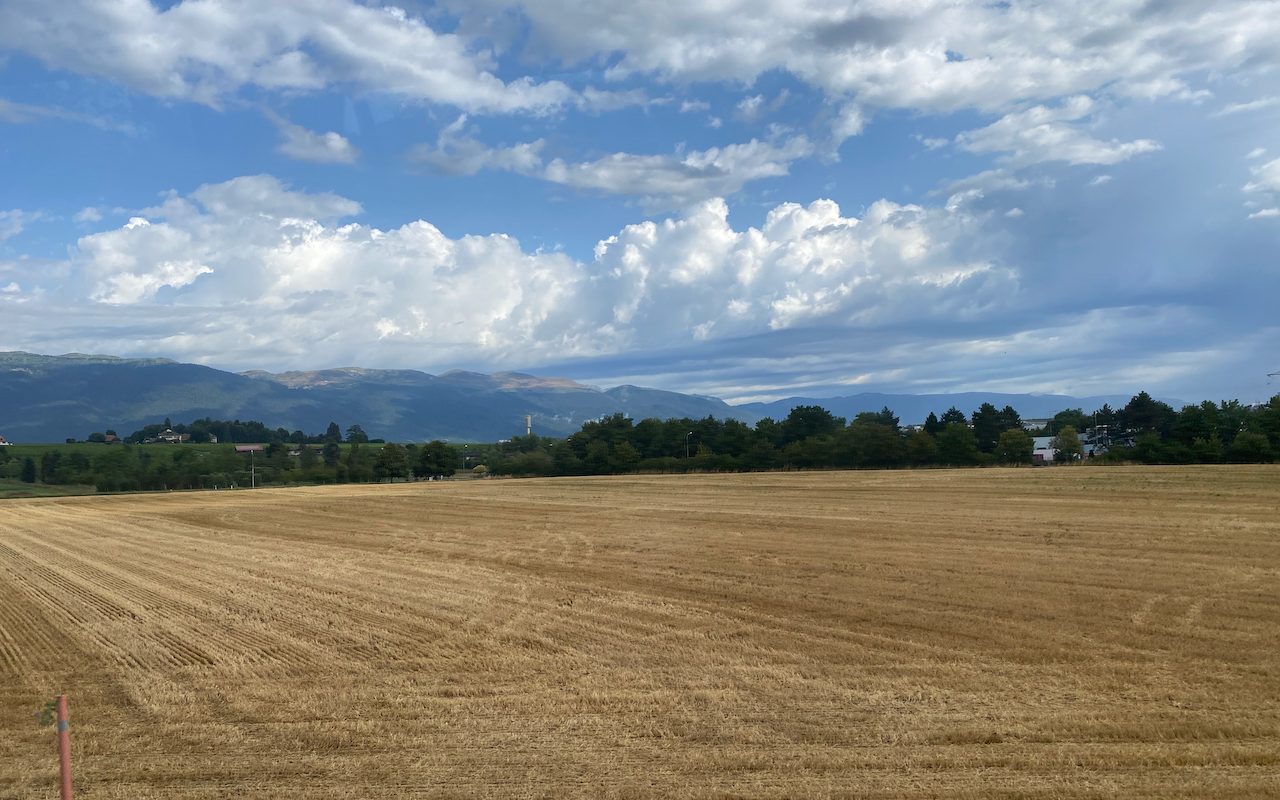 I also saw no evidence of the border with France. I was looking for it and following it on the map, but there was nothing.
The journey to Lyon passed without anything else of great interest. I spent much of the time fighting a dreadful Internet connection through my phone, as I had some bits of work to deal with, but achieved next to none of it in the 2-hour journey.
Fortunately I had a 35-minute break in Lyon, so was able to do things I needed to whilst sat on the station, before boarding my next train.
The scenery around here is fairly ordinary, but one thing I noticed as we crossed some of the many rivers, was how low the water was in many of them. This was the most extreme example, as we crossed the Loire, on the way into Nevers.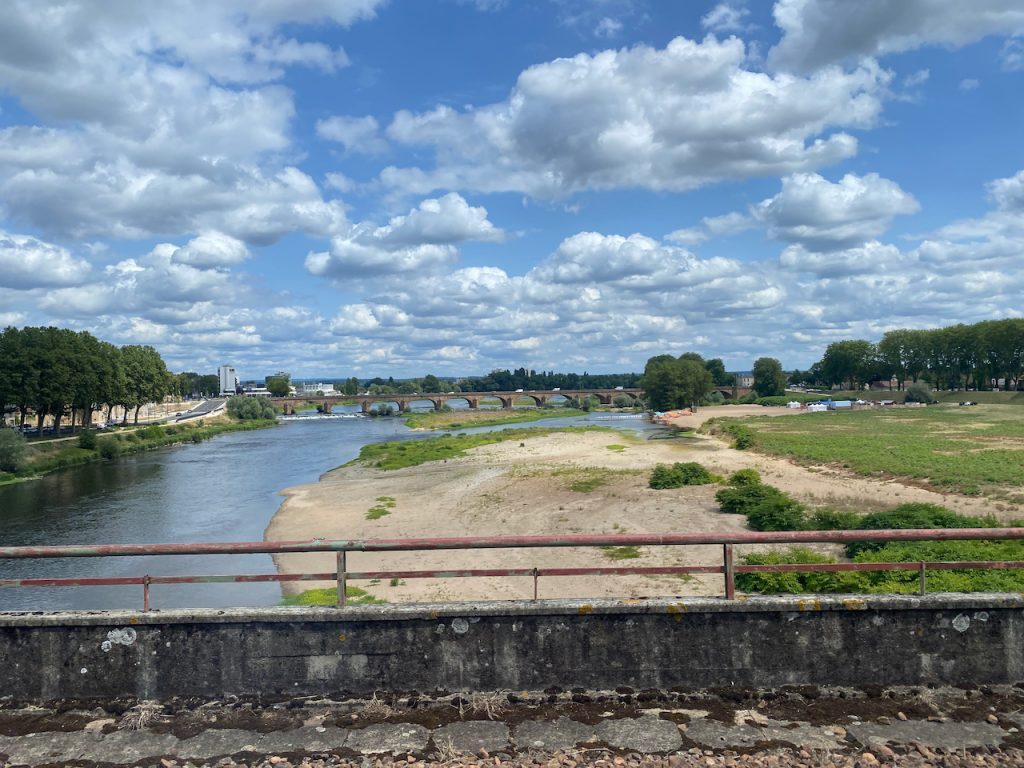 There was a pause of around 10 minutes at Nevers where the service reversed after deviating off the main line to go into the dead-end station.
Lots of people got on here and some of them started taking spare seats in the first class compartment I was in. A couple of minutes later the train manager came through and told them to leave. As one young man, pushing a wheelchair with a baby, left the compartment he turned back and gave the train manager (who was behind me) a piece of his mind. Within moments the train manager approached and confronted him in the doorway. He said he was not going to put up with abuse. They continued to argue and point at each other, with no sign of either backing down, and I did start to wonder where this was going to end.
The train manager evidently had had enough, as he decided to pull the emergency handle, directly above him in the doorway. The train started to slow and a voice could be heard over the PA. The train manager spoke very heatedly to whoever it was, presumably the driver, for a few moments then retreated to somewhere behind me, at the rear of the train.
The train continued for another 15 minutes or so to Bourges. Here, a couple of SNCF crew came on board and looked at the emergency handle and reset it, then put a new cable tie onto the handle. I saw the train manager leaving, a few minutes later.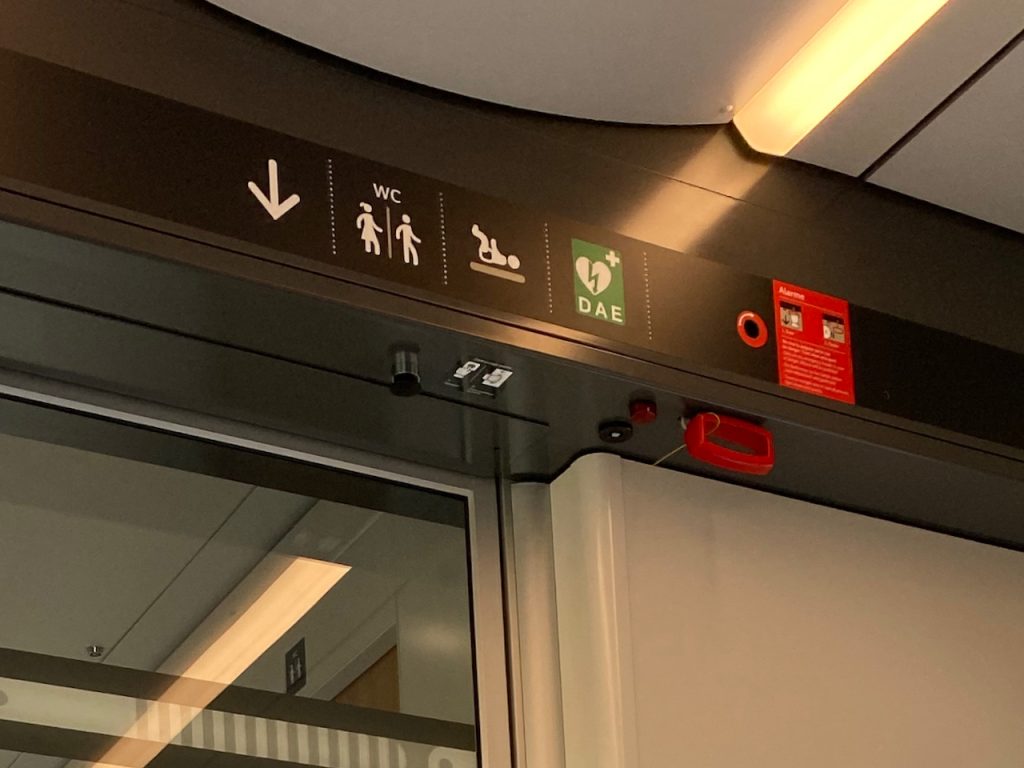 After that, the journey passed without further incident. On the final section into Nantes, we were alongside the Loire for quite some way. By this point it is a navigation and I spent some time trying to spot any boats using it. I only caught a glimpse of one.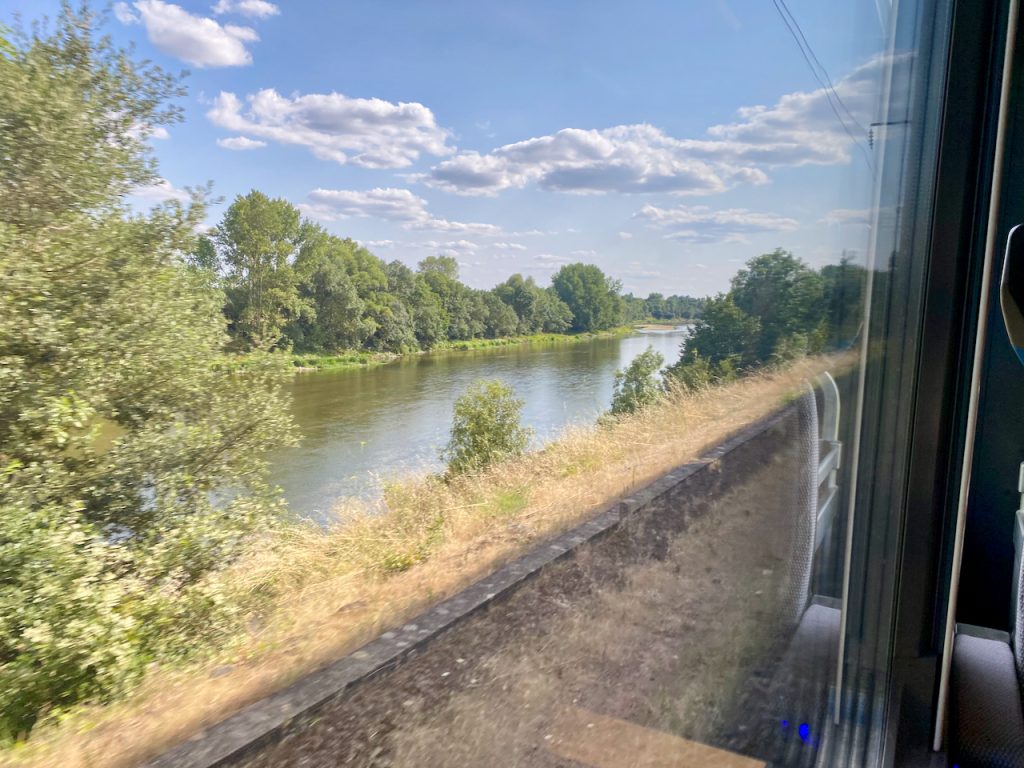 My hotel in Nantes was very close to the station. I was given a very good printed map, which had a recommended walking route to see the highlights. What I was not expecting at all was that the green lines on the map would be repeated on the ground, right through the city. A simple and brilliant idea, meaning I saw lots of the key places quite quickly. These sites were all on the line.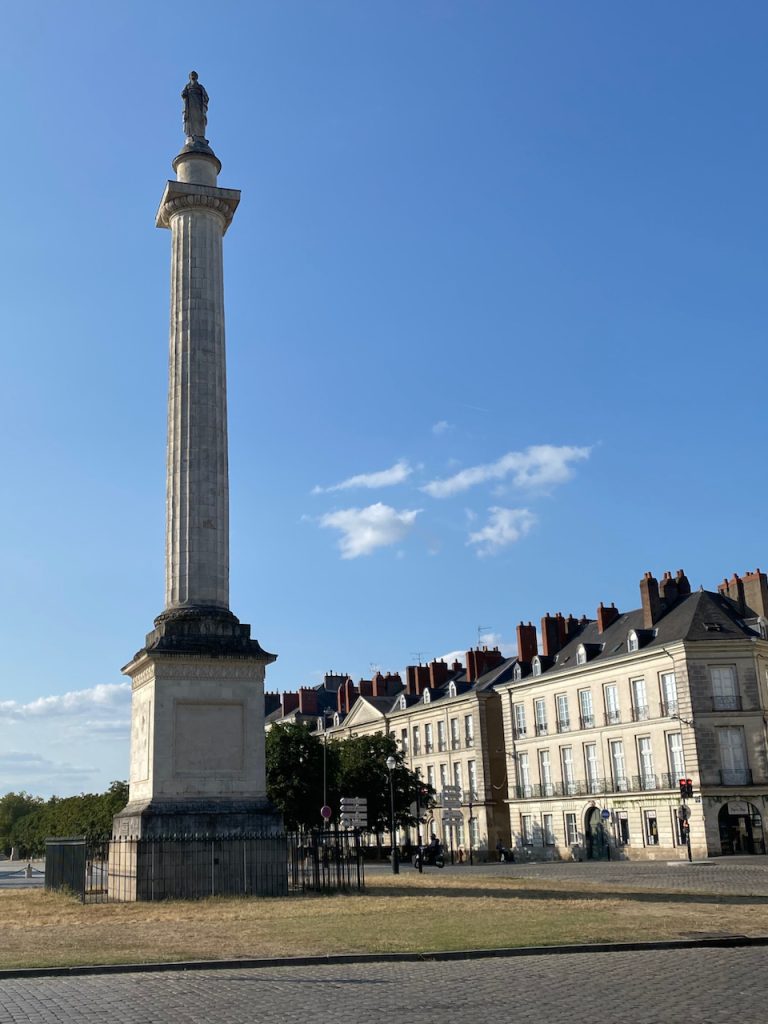 This arcade is rather impressive as well. I only stopped briefly as there was a photographer trying to get some shots of a couple on the stairs.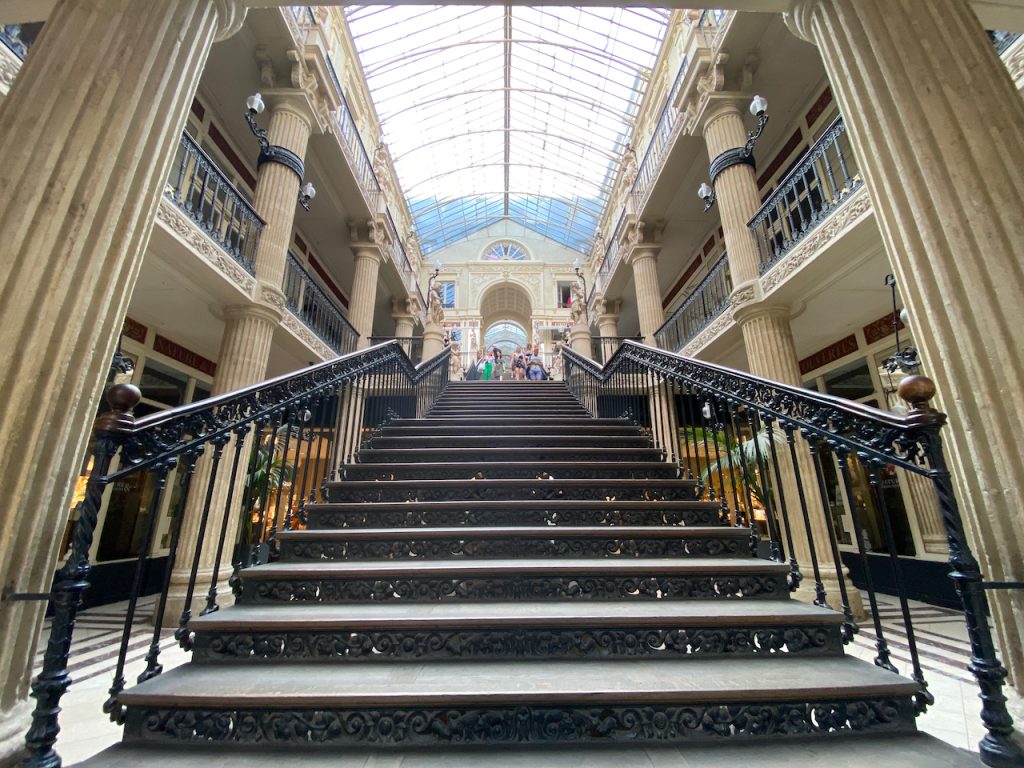 This is known as quite an artistic city and they have funded some great public art projects in recent years. The first piece I came across whilst following a green line had a fully functional living space in a narrow alleyway, spread over three floors, with a lift to get up to it.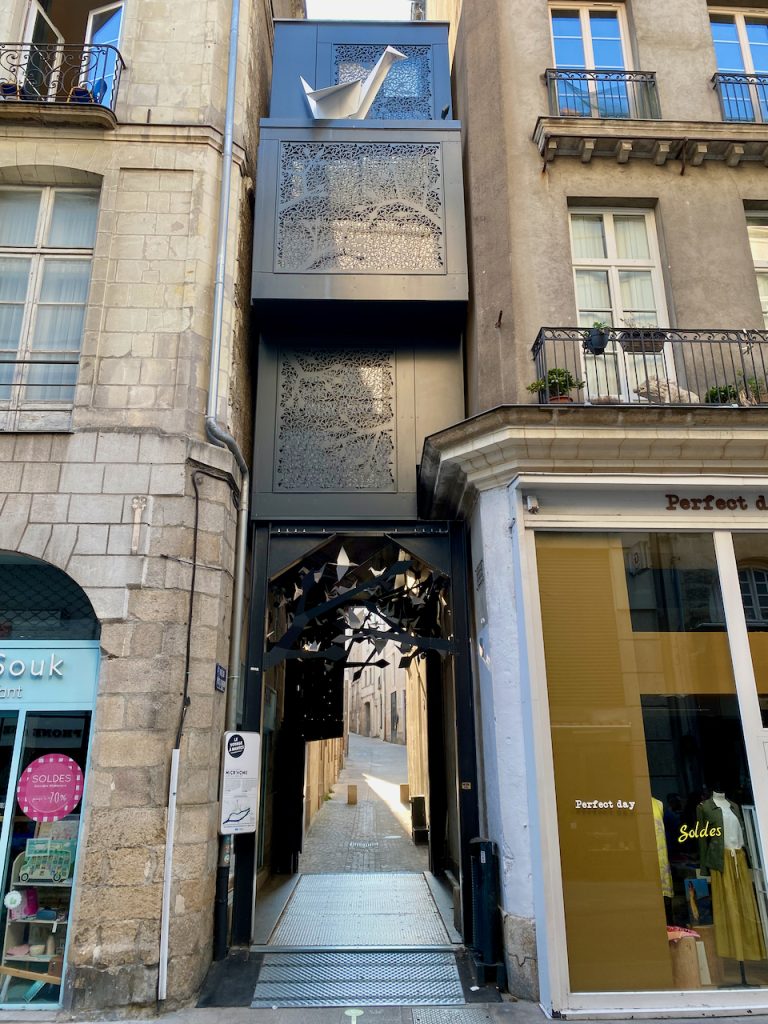 The next one was a modern makeover given to a fountain.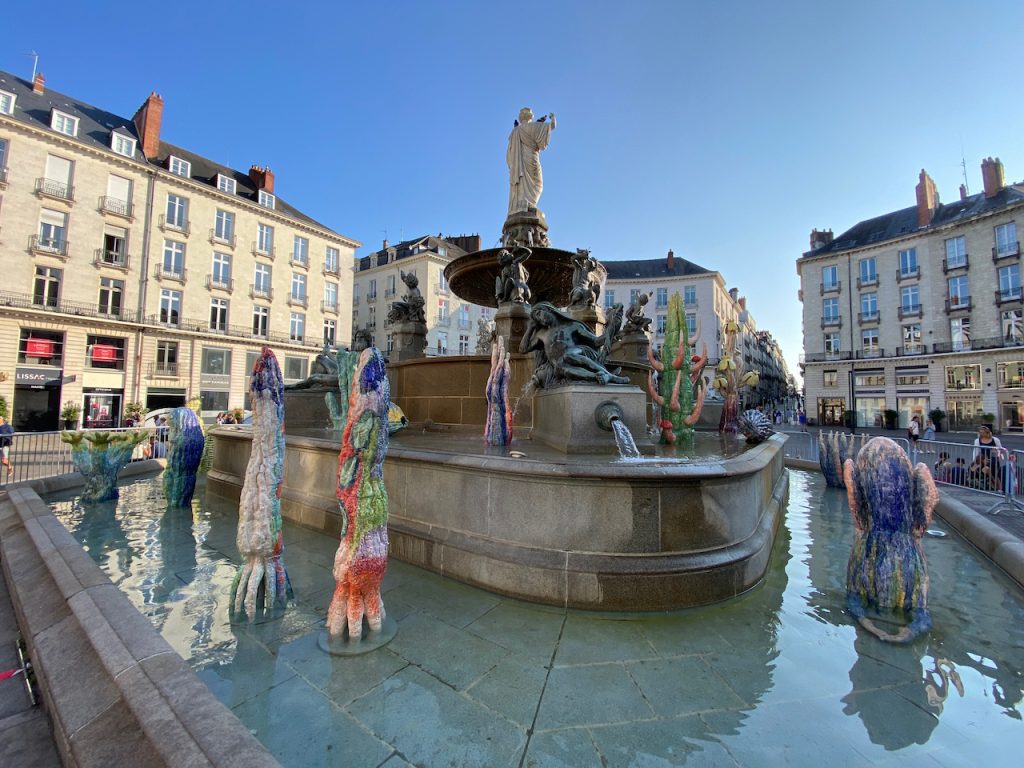 After that, and still following one of those green lines I came across this oddity, in one of the main shopping streets. People were queueing up to get a picture from straight ahead, often with their partner or child at the front.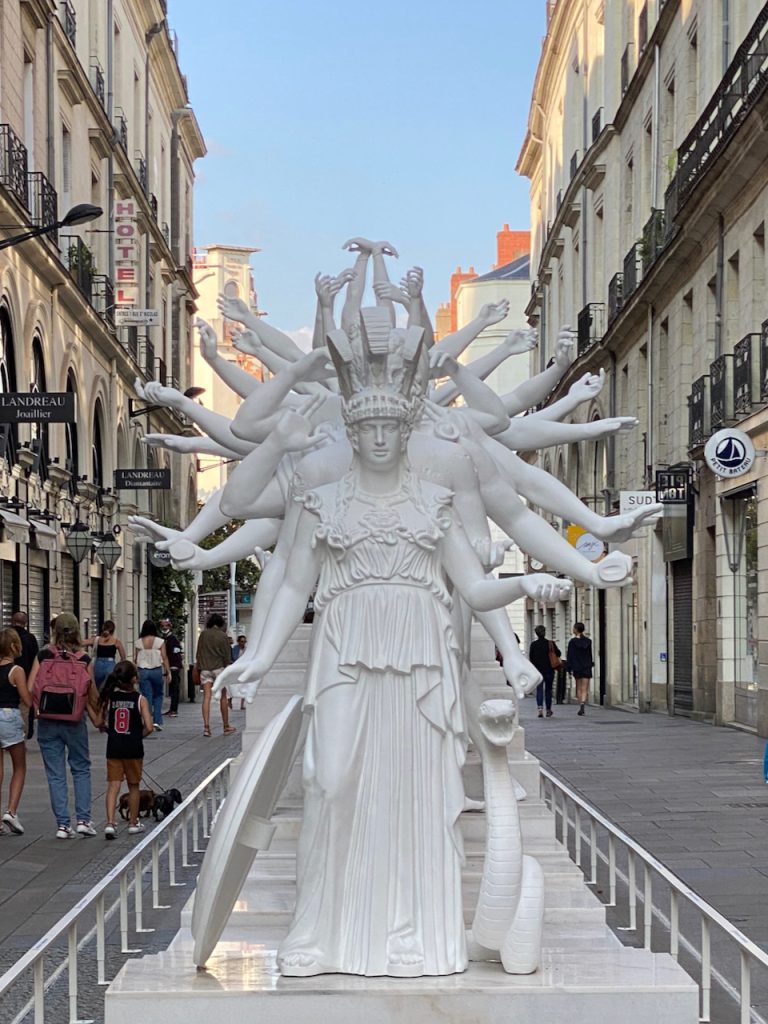 The last one was actually two works in different places. The first was installed in 2018, and is a slightly mischievous take on statues on plinths. The second is new this year and has apparently been relocated a couple of times across as part of their art festival, as the concept is the subject trying to find a new home for his plinth. The attention to detail in copying the original work is incredible. The artist even put a shine on one of the shoes as the original has been polished by the hands of thousands of passers-by.
Although I was only here overnight, I couldn't not take a look at Les Machines de L'Île. These are the people who brought the Sultan's Elephant to London and many other cities, and inspired other projects like the giant and spider events we saw in Liverpool. Their workshops are here and they also have a visitor attraction with a range of mechanical creatures, as well as a huge carousel, which is several storeys high and was visible from the other side of the river. It is situated on an island in the river (hence the company name) in an area that was once a shipyard, and some of the slipways are still visible.
I looked at the carousel first. Sadly I'd only missed seeing it operating by an hour or so, but I could see that there was a huge amount inside to look at. It is very definitely not the sort of carousel you might see at a fair.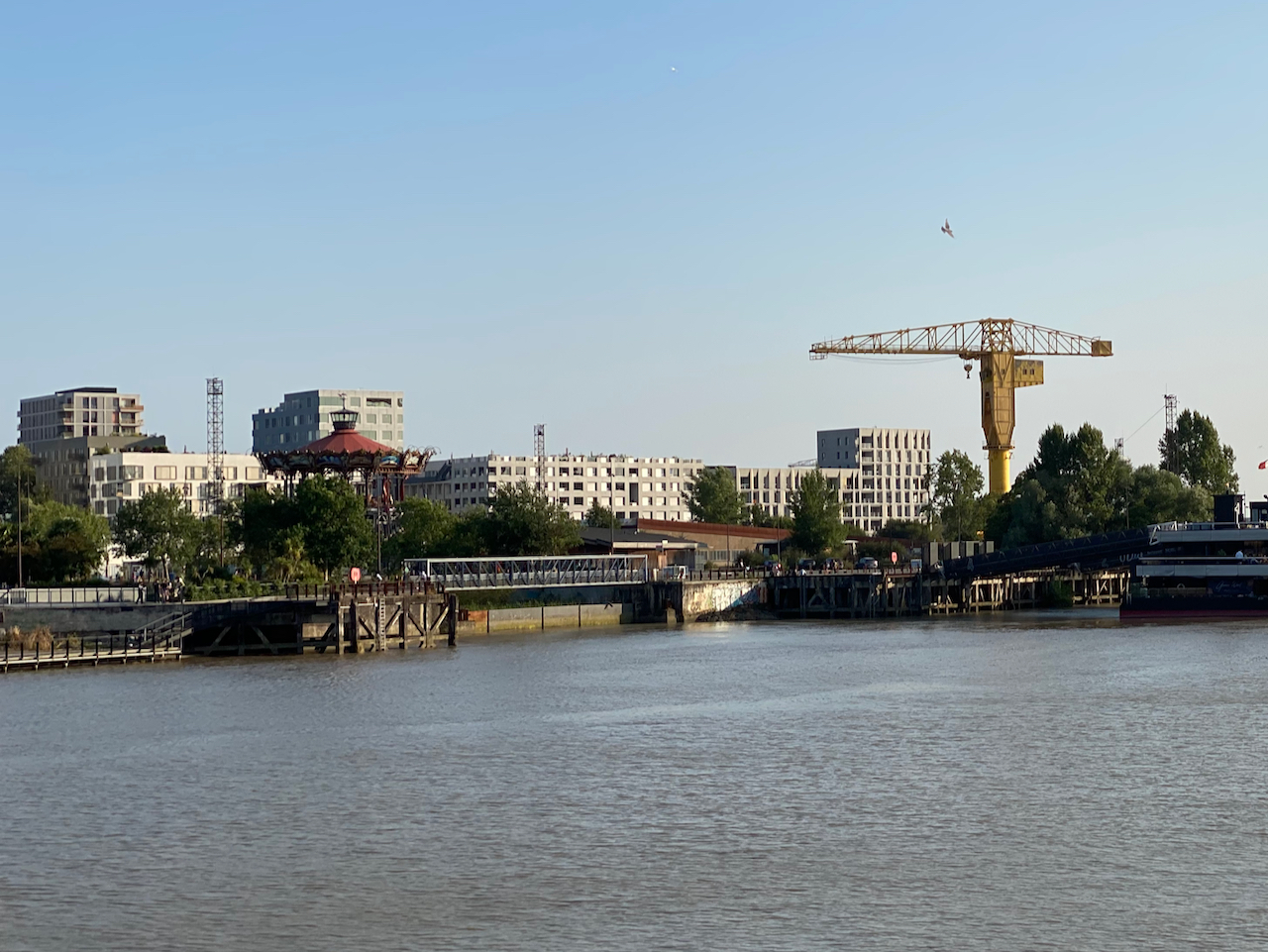 I walked back via their main building, and was amazed to see the elephant out for all to see. It is under cover but they are evidently happy for people to get close to it. This is not the Sultan's Elephant, but a new creation based on that, which can carry up to 50 passengers at a time, on a procession around the site.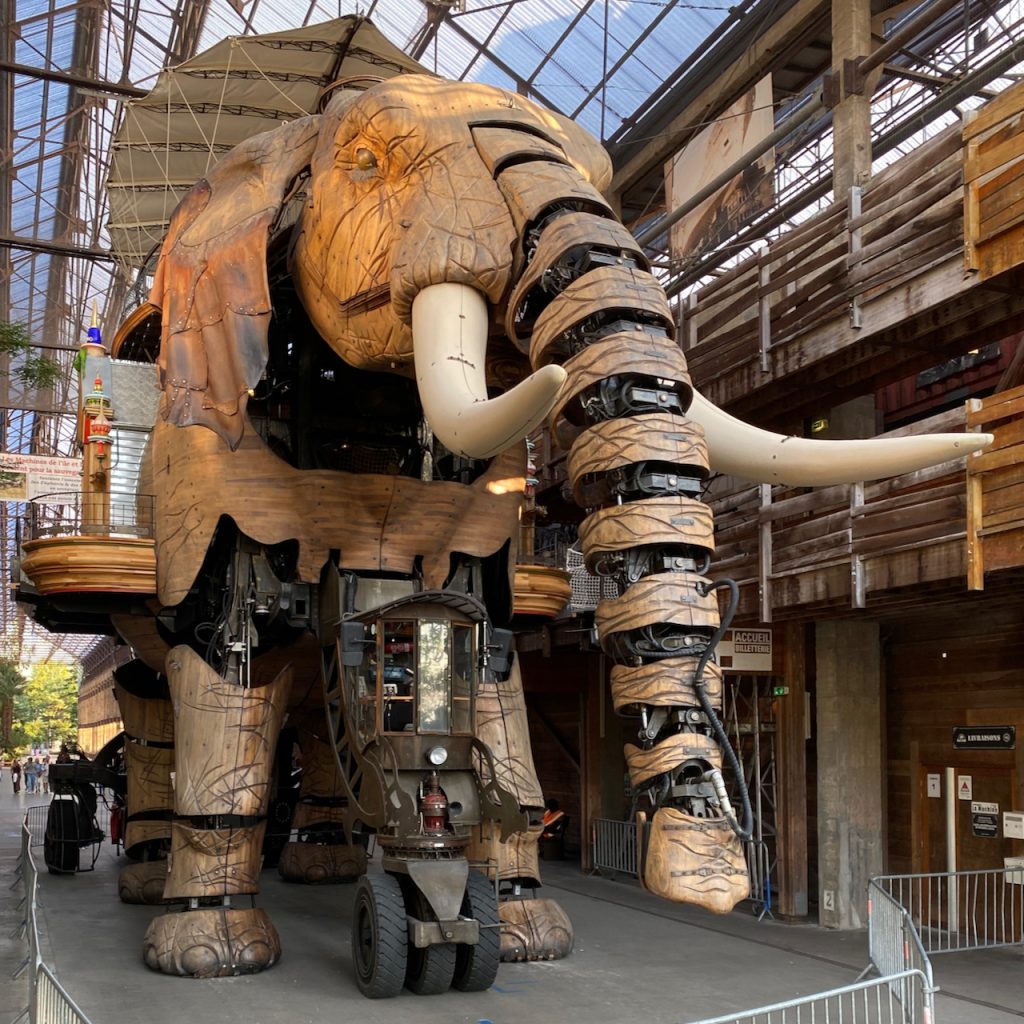 The other thing that I saw was the demonstration section of The Heron Tree, which was a huge project planned for an old quarry on the riverfront, which would allow visitors to walk among its branches. The full thing was an immense ambitious project, but sadly was cancelled last year, as it was too expensive in the current climate. I do hope that it comes back at some point, but it takes a lot of confidence to consider spending €35m or more of public money on an artwork/visitor attraction, let alone the near €70m it was by the time it was cancelled! That said, I love that they think big in this place. It is really a super city.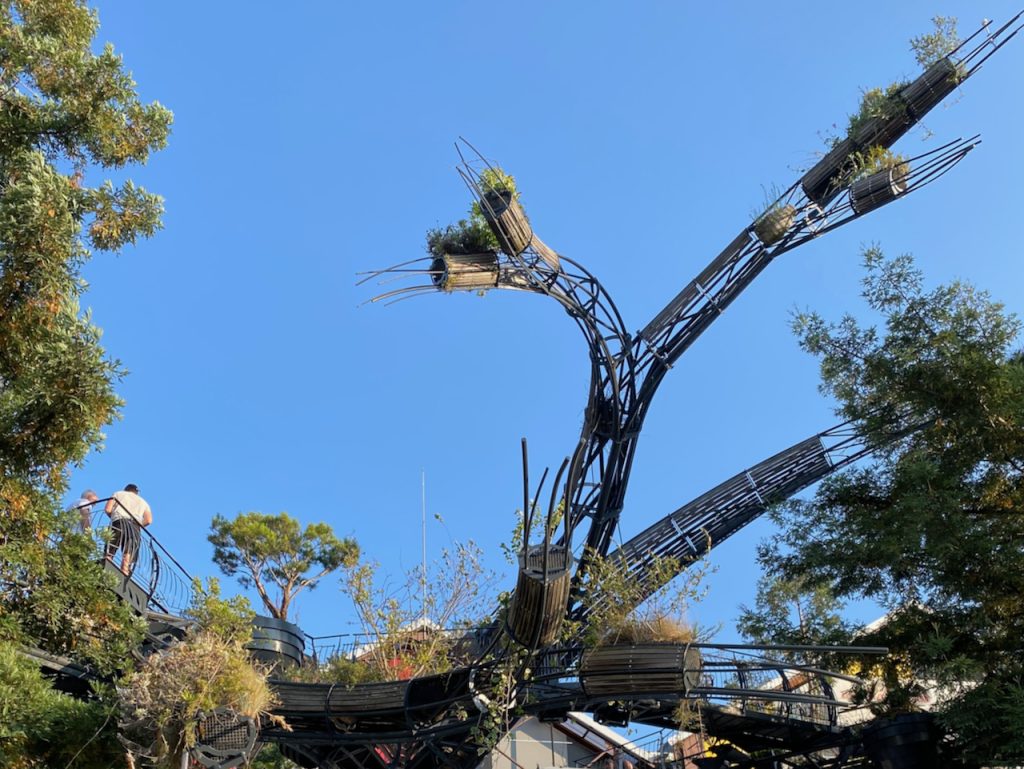 I walked back through more of the city streets, past a crazy curved football pitch and alongside the castle. I will definitely be coming back to spend time in this city, but on this trip I don't have that luxury as I need to be home in a couple of days.