Bologna Centrale – Verona Porta Nuova – Milano Centrale – Lausanne – Geneve
I have to say I was feeling the effects of the day before when I got up, later than planned. It had been both exhilarating and exhausting and I was far from 100% full of beans when I set off for the station. However I'd got a route and reservations to my destination, which was the main thing.
I initially went to the wrong platform, at the far side of the station, before coming back to the near side, where my train was due to depart. It was easy to get it wrong – the departure board had 4 different trains for Milan showing on it, and this one departed just after mine. However, I'd checked the number and the time and this was definitely the right platform, and I had a few minutes to spare so all good.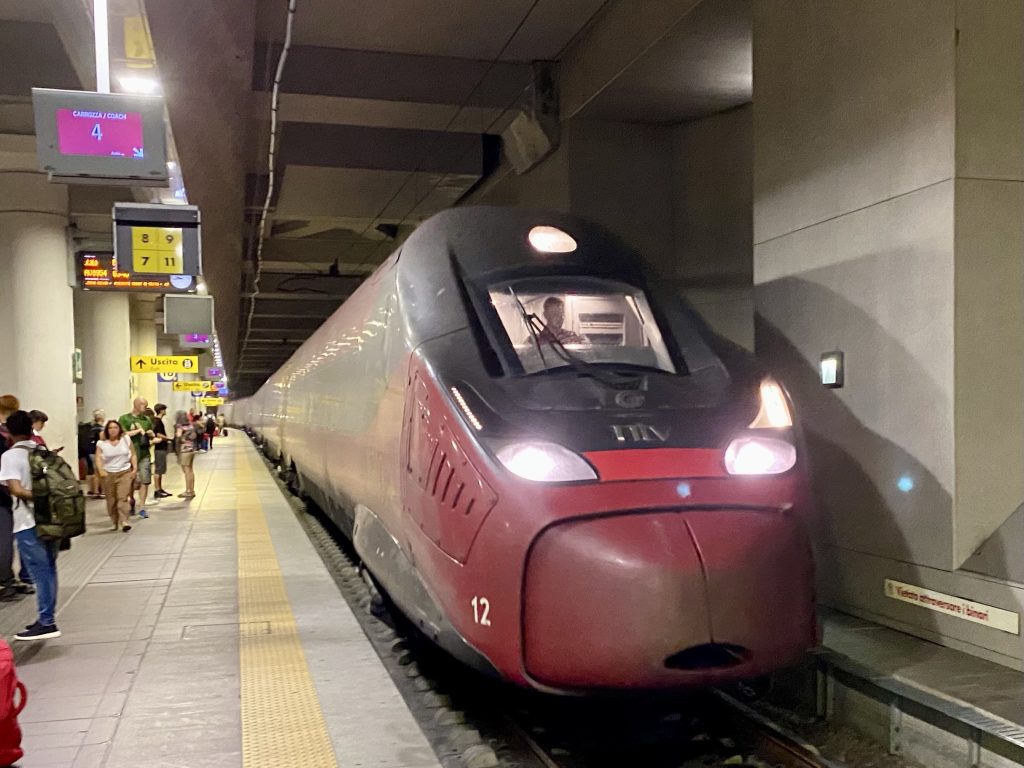 The train came in, I jumped on, found my reserved seat number and sat down. Oddly, the train departed 3 minutes early. That felt wrong. Then the announcement – I was on a non-stop service to Verona. Looking back at the picture above, I wasn't in sight of the departure board – oops!
I went and found the train manager. She was incredibly helpful and found me connections to get me back on track. She really didn't need to – the train I'd got onto was operated by a different company, and my Interrail pass wasn't even valid. She didn't charge me though, as a gesture of goodwill as she could see that it was a genuine error and not someone hitching a ride (I'd shown my pass and reservations.)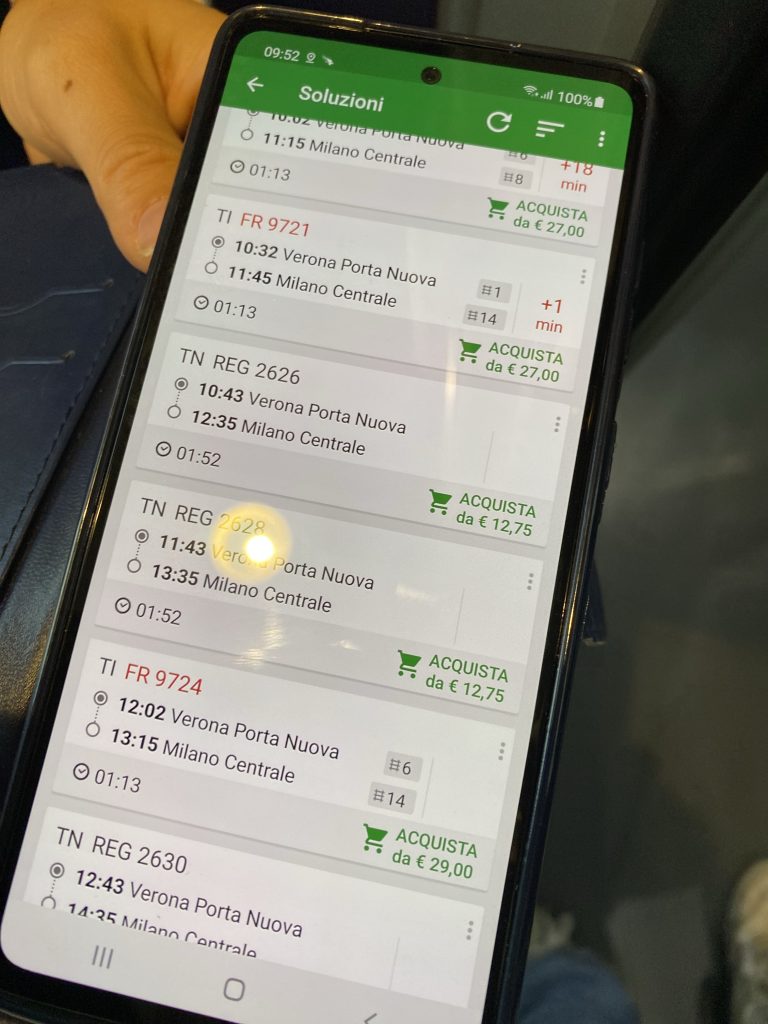 At Verona I had a super-quick change of trains onto the Milan service, indeed I only made it at all because it departed a couple of minutes late. This train was packed solid, and as pretty much the last one boarding I was standing in a stairwell for the first two stops. However as we got close to Lake Garda, lots of people got off and I bagged an upstairs seat.
I've not seen Garda before. On a quick glance through the window on the opposite side of the train, it looks lovely. It wasn't feasible to take photos, unfortunately, but immediately goes onto the list for a visit some time.
Finally in Milan I had time to nip down to the wonderful food market below the station. It's not signposted but is absolutely one of my handy hints for travellers. This time I tried arancini with a caponata filling, which was fabulous.
I've done several routes in and out of Italy by rail now and today's was by a distance the best, passing up the western edge of Lake Maggiori. The whole run along the lake, and especially between Lesa and Baveno is stunningly beautiful. Unfortunately dirty train windows and extensive tree growth on the lineside are not helpful in conveying this. I glimpsed a couple of islands with houses on, which looked gorgeous.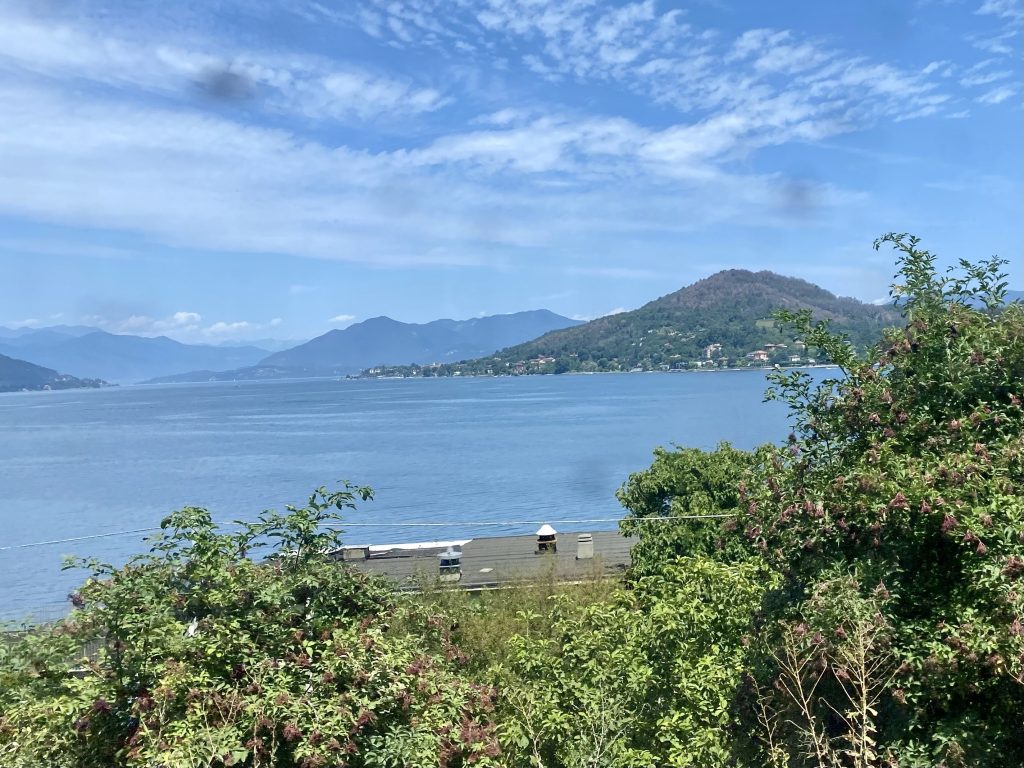 After the lake, the hills soon close in and become mountains.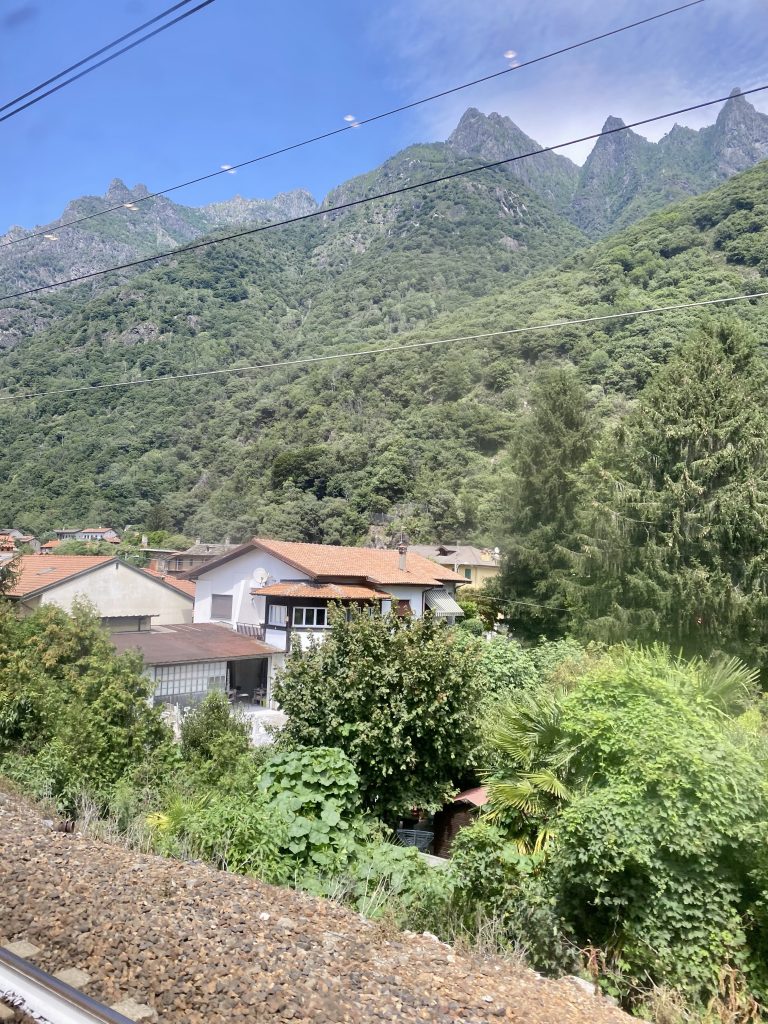 We are right on the border here, though you don't see it, as the train crosses into Switzerland part way through the famous Simplon Tunnel, over 12 miles in length.
We emerged into what for me is very typically Swiss scenery. A thing I'd never been aware of is that this is a huge wine-growing region. I don't recall ever drinking Swiss wine, but may be mistaken. I also enjoyed spotting small branch lines that climbed the mountain sides in a number of places.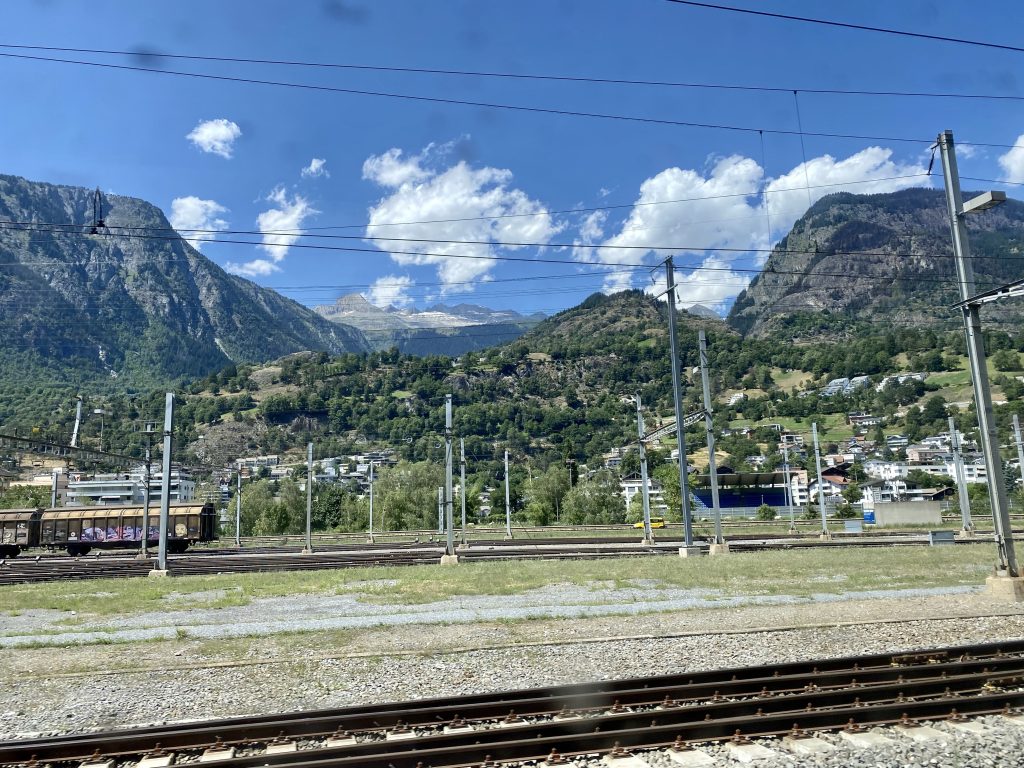 Eventually the line reaches Montreux and we begin our journey along the shore of Lac Léman. You don't see a huge amount of it, but the glimpses are lovely.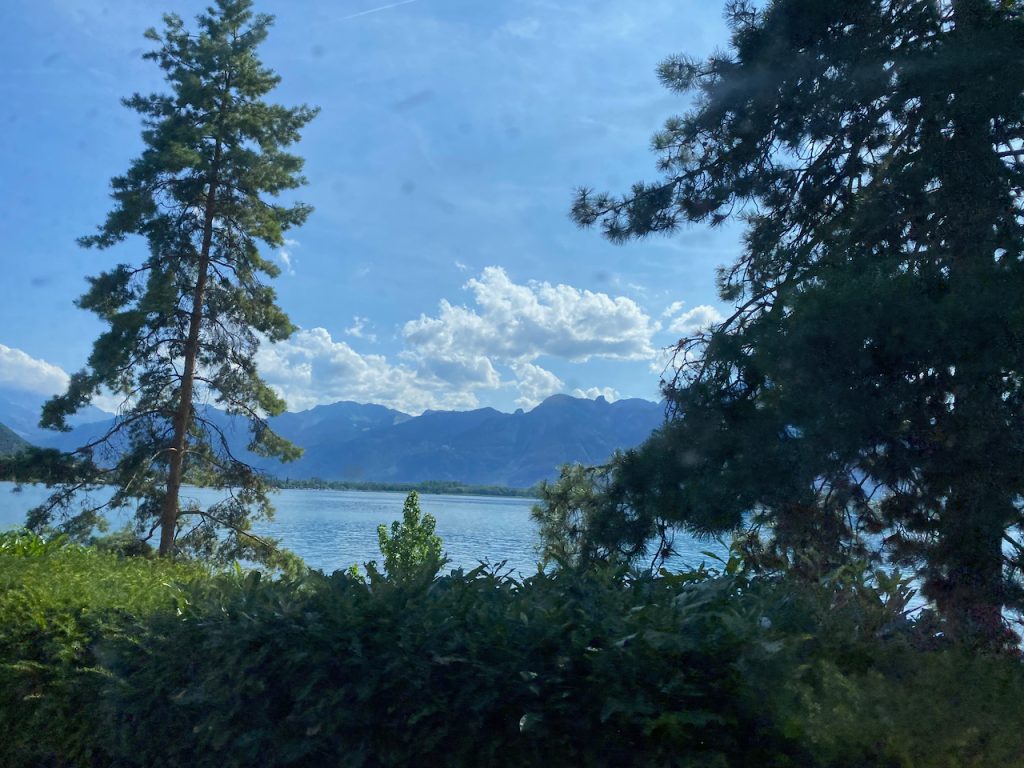 Our train terminated in Lausanne. This was a little unexpected as when I'd boarded in Milan the destination board said Geneva, though my reservation was only to Lausanne, which I didn't quite understand. The train manager put out an announcement explaining (in four languages!) that the reduction was to do with repair working being done to the line. At Lausanne, I had time to step outside and look at the station, which is rather nice.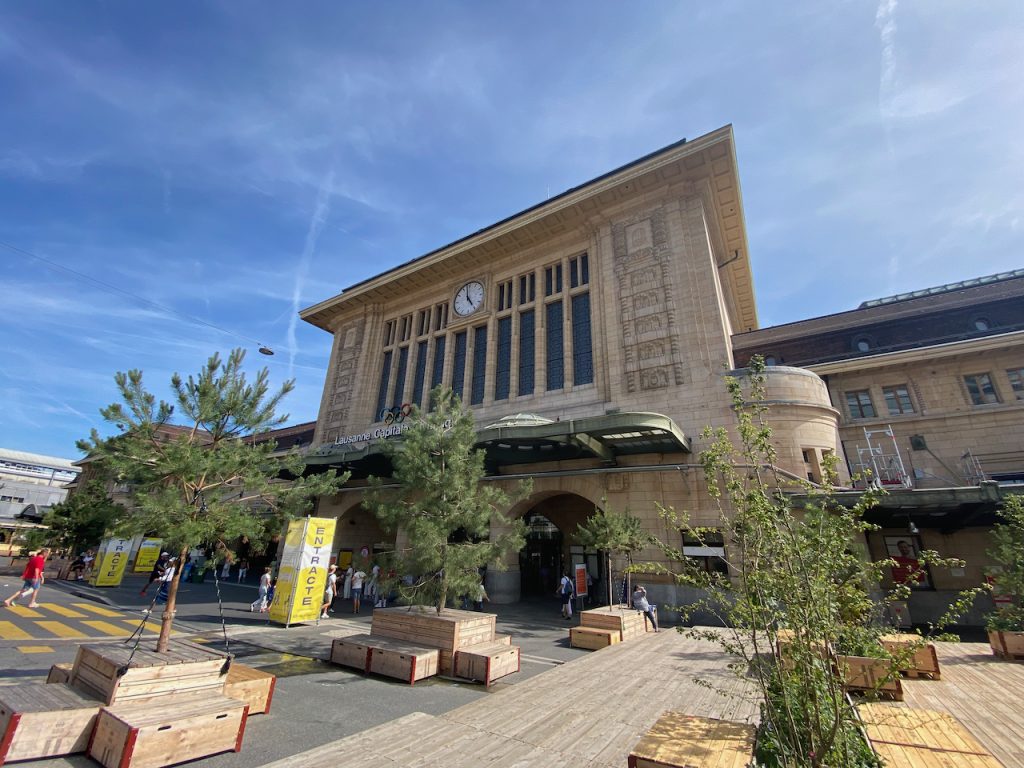 The local service for the last part of the journey was predictably busy, but being Swiss railways was comfortable and immaculately clean.
I've not visited Geneva before. After dropping my bags, the first thing I wanted to see was the Jet d'Eau, which throws water to a height of 140m and is surely the best known landmark in this city.
After this I went exploring the old town. The local stone is grey and not terribly attractive, unfortunately, as it conveys an unnecessarily sober mood to the place. A shame as there are a lot of well designed buildings, so it was an interesting walk.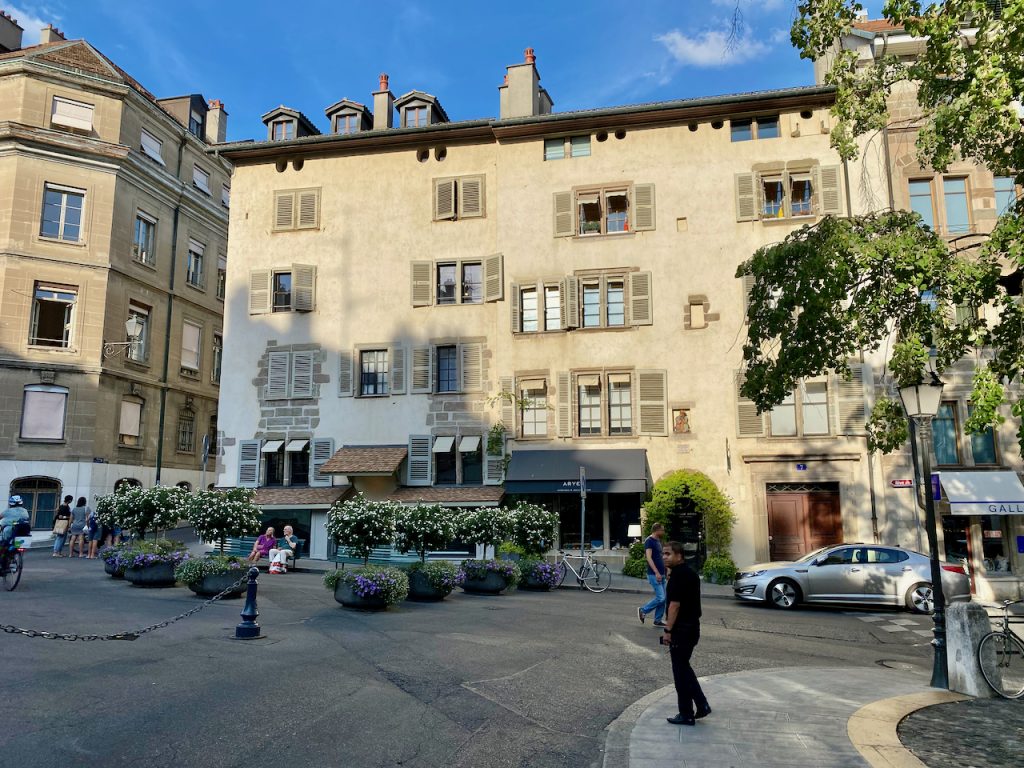 The cathedral is an odd beast. I wasn't quite sure what to make of the multiple towers in different styles that didn't complement each other at all. It's difficult to photograph in such a compact area, but these pictures from different directions and distances should give a feel for what I mean. By complete contrast the final photo shows the front of the cathedral, in another different style.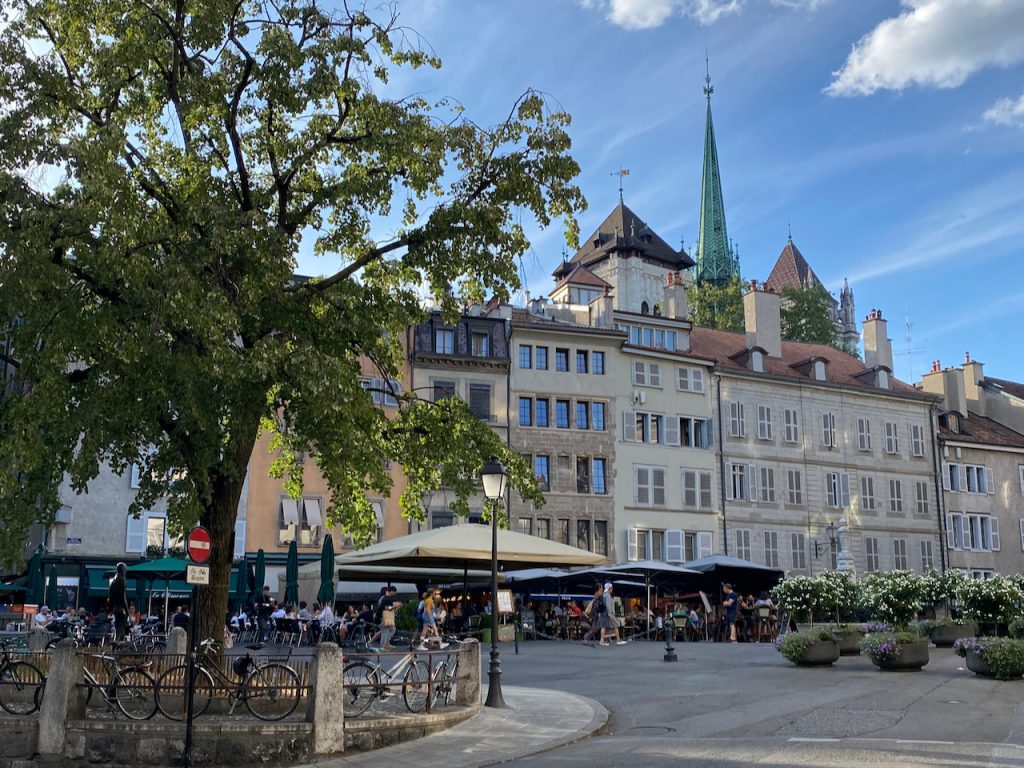 One other point of interest was the many and varied drinking water fountains, all over the place. These varied enormously in size and style.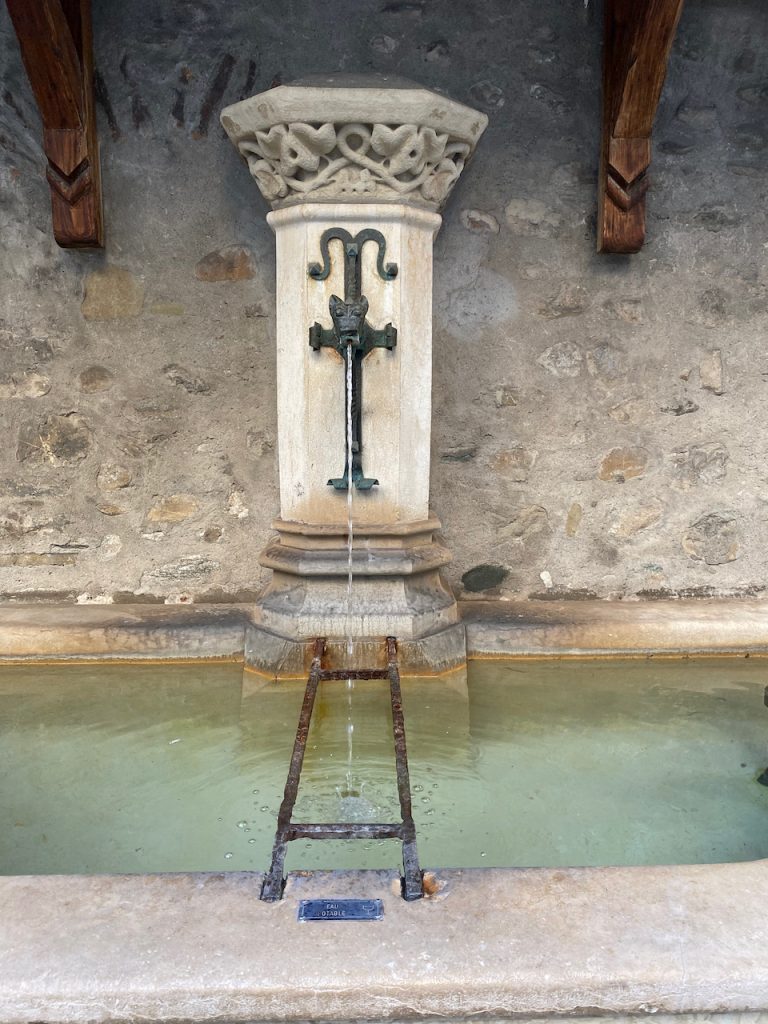 After this I decided it was time to find something to eat. I passed through a newer part of the town, and crossed the bridge at the point where water exits the lake and becomes the river Rhône.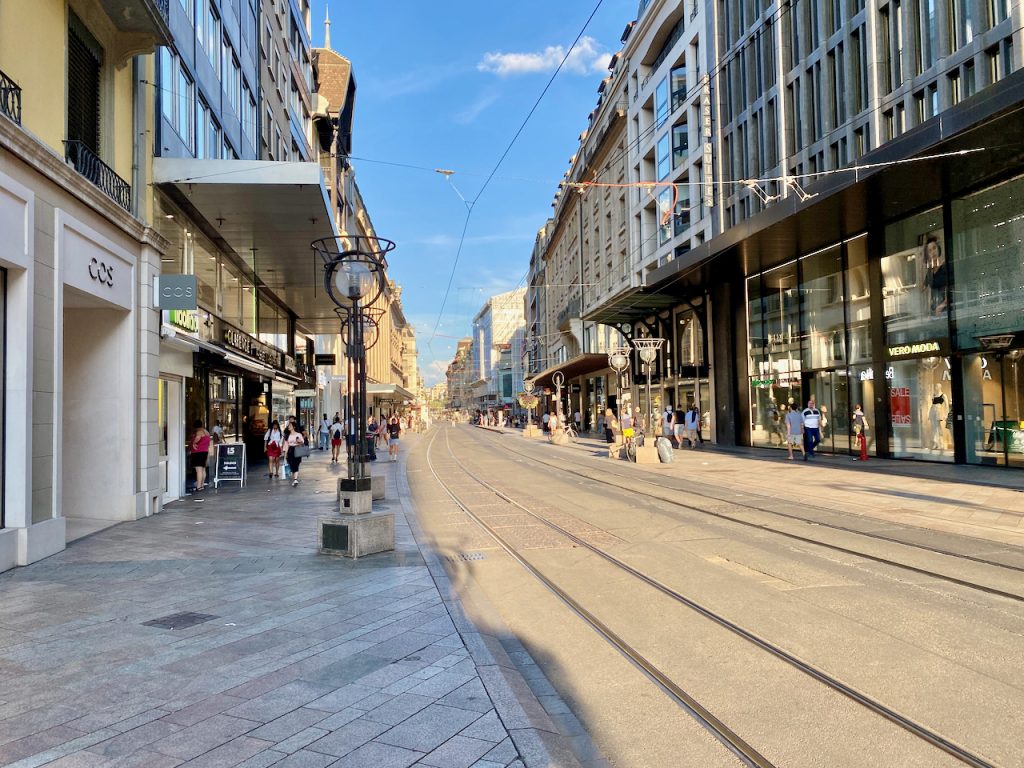 I know Switzerland is expensive, but I really was not expecting it to be quite as pricy as I found it to be. I'd already paid £6.50 for an ice cream while I was exploring the old town, so knew it would be steep, indeed I'd realised it a couple of months ago while getting lunch on the station in Basel.
There were lots of places charging around £25 for a pizza, my own hotel was charging £30 for a steak and I briefly contemplated an Indian where a very standard curry was £28 without rice or bread. I looked at a small Turkish bar where a portion of chips was £6 and the kebab with it was £15. Yes I can afford it, and it is a drop in the ocean of the cost of this break, but I really couldn't justify it to myself. For the first and last time on this trip I used McDonalds, and spent a nudge under £16 on a "meal deal" of chicken, potato wedges, with an orange juice. Ouch!
As it got dark headed out to the waterfront again. I wanted to get a close up look at the Jet. By now the floodlights had come on, which created a quite different effect. It is interesting to see from different angles, and quite imposing close up. Some people were running close to it and back, which I'm sure was a lovely thing to do in the heat of the day, about 6 hours earlier, but not right now. It was a LOT cooler here at night than Bologna at the same time yesterday, but still pleasantly warm.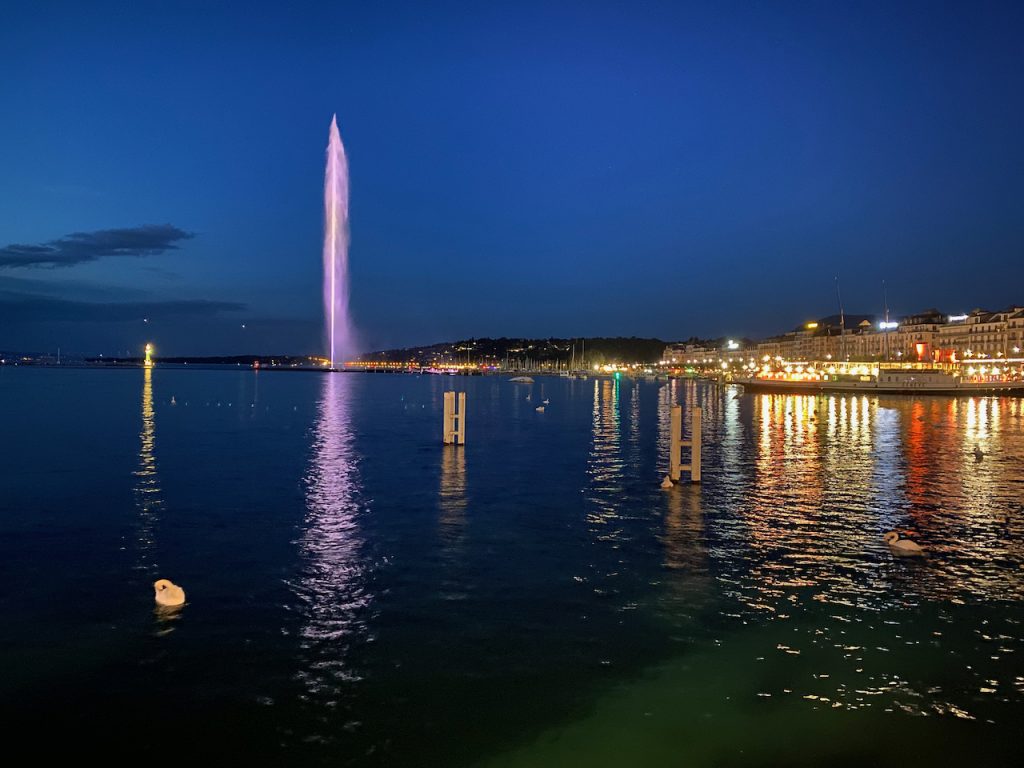 After taking some photos I headed to the opposite side of the the harbour. I'd noted that the Jet is switched off at 23:15 and wanted to watch this from the small lighthouse at the end of the Jetée des Pâquis. I managed to capture video of the moment it happened.
A harbour at night is always an interesting place to photograph, and this was no exception. I loved the old sailing boat in particular.