I thought it might be interesting to reflect on a side of this year's travels that I've only touched on in my diary so far, working from a different place every day or two.
I have Interrailed once before, for a week about 10 years ago, and loved it. It's been on my mind to do more for ages, so I grabbed the opportunity to buy a pass when there was a half price offer for a couple of days, without any idea what I'd do with it. Here's my Facebook post about it: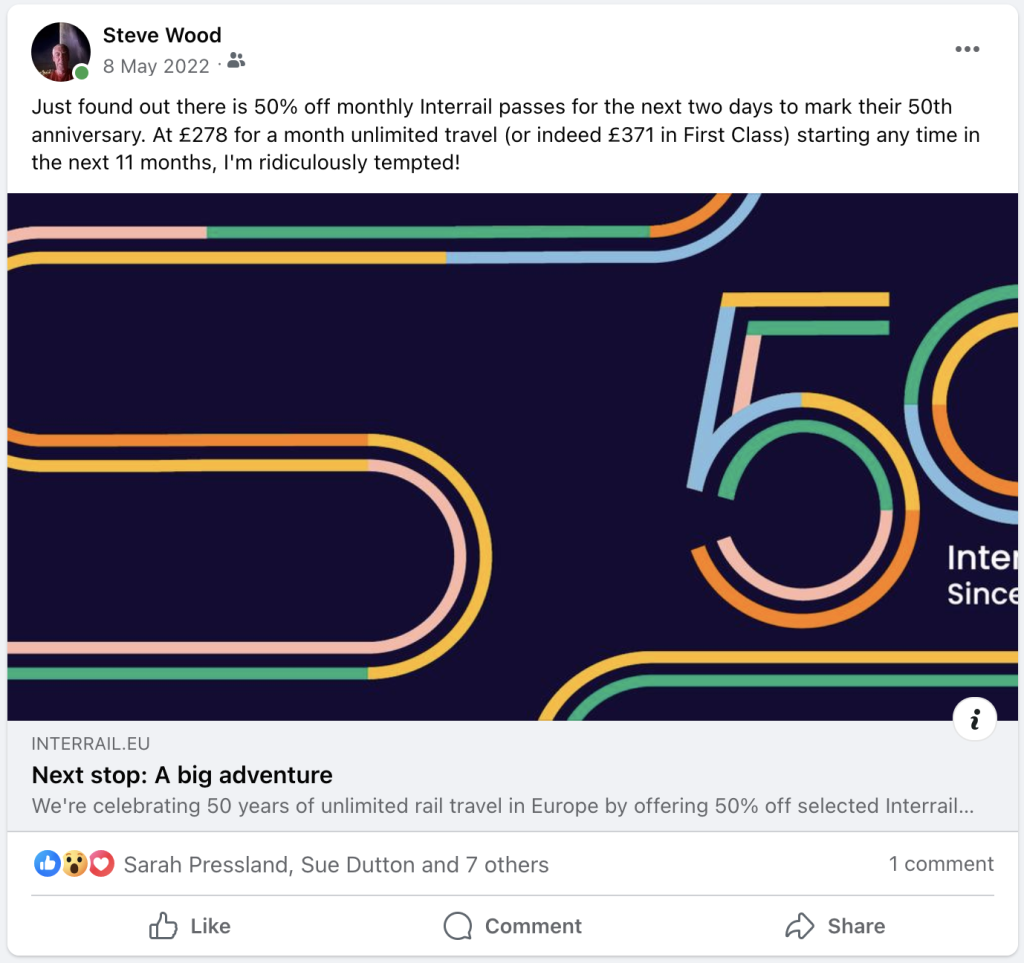 £371 for a month was certainly a great deal, but £400 for 2 months sounded even better after I'd thought about it for a while. I knew there was no chance of going away continuously for a month, but the chance of several trips over a longer time for a few pounds more sounded like a much better bet.
Planning the trip
From the moment I bought the pass I knew that it would need to fit around work. That led to an interesting question, how effectively could I work and travel? Digital nomads are a great concept but most of them set up camp in one place for a week or more at a time. I was thinking about moving nearly every day.
Like many people, I've worked from home for years now. Office days are a rarity; less than half a dozen a year. Living on a boat means that I'm completely on top of mobile technology, so working from "home" could mean anywhere these days, couldn't it? I'd like to think so but wasn't completely sure.
I decided a test was needed. I'd already got a ticket for a concert in Glasgow in July, so I booked 4 nights in a hotel in the city centre around it. I packed a bag with the things I thought I needed, and could sensibly carry, and set off.
The first lesson was learned very quickly – make sure the room has a desk!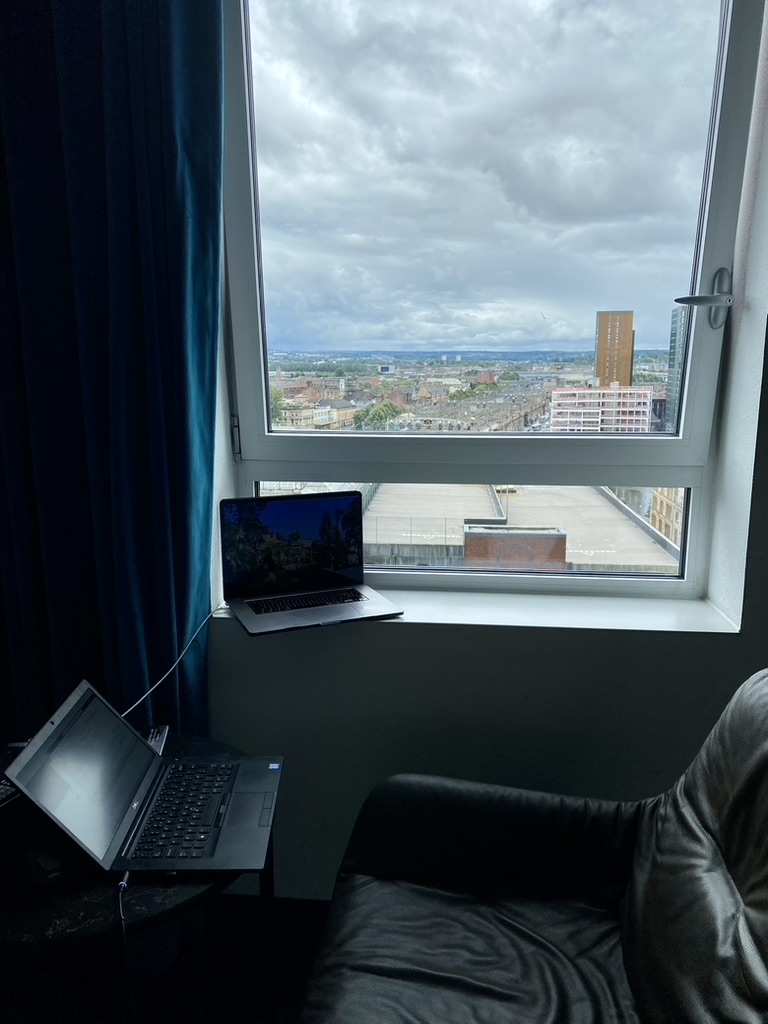 It's a strange one, but this otherwise rather super hotel didn't have desks in the rooms. It had never occurred to me to check, but that was a useful lesson learned.
At home I use two laptops and share a single mouse and keyboard between them. A piece of software connects the two via the Wi-Fi. Second lesson, hotel Wi-Fi blocks the ports needed for that software to work, indeed all sorts of things were blocked, FTP and SSH being the ones I noticed. I was able to make a VPN connection to the office, so could run remote desktops when I needed to. The one time I actually needed to use FTP I tethered to my phone. I guess that wouldn't be an issue for most people, but it was a small one for me.
Overall, the experiment went well. I was able to work effectively and comfortably after a good breakfast, nip out for lunch each day, do some sightseeing each evening, and really enjoyed the experience. It helped that the weather was great and being summer it was light until late every night. The experience gave me the confidence to know that working from hotels was viable.
The year rolled on, work was busy and thoughts of travelling for two month were pushed to the back of my mind. I did get away, taking a fabulous trip to southern Italy in September, but only for a few days and only took one laptop with me.
By the turn of the year I was making plans. I knew I needed to be on my way by the first week of April. That was the deal with the pass; I had 11 months to activate it from the date I'd bought it. I decided that there would be three trips of just under a fortnight each, with a gap of a week or so between them, and possibly a fourth shorter trip if I wasn't dead on my feet by then.
I had some concerns related to Brexit. I'd read that taking more than one laptop abroad would count as a commercial export and would incur customs charges. Oddly I would be allowed an iPad and a laptop, so that's what I took. The MacBook stayed home and the iPad replaced it. I left the Macbook somewhere that it could be started up and I could remote into it if need be.
I should perhaps explain that the Dell laptop belongs to my main work client and the Macbook is used for everything else I do, hosting and the like, plus all my personal stuff. I can get away with using an iPad for a short time instead of the Macbook, but prefer not to.
Finally on my way!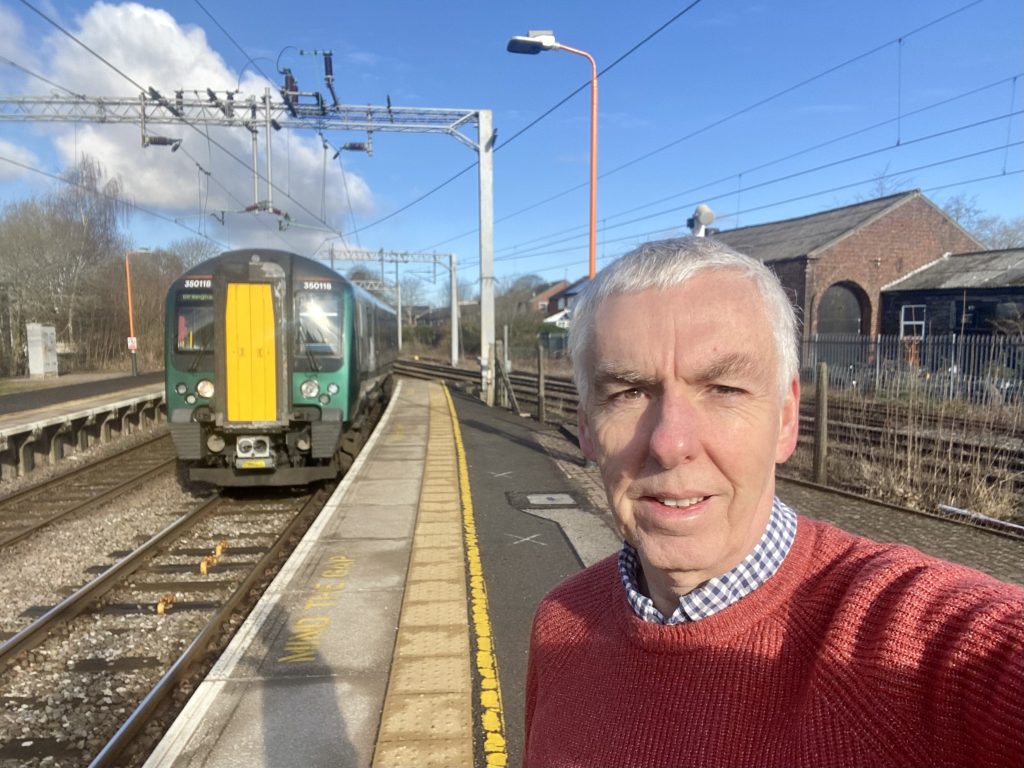 I left Stone on the morning of 7th March, travelling to London and then via Eurostar to Brussels. The first night was spent in Antwerp. I very quickly discovered that my "universal" power adapter didn't work there. Unfortunately it was mid-evening and very few places were open. MediaMarkt are usually pretty good but on this occasion they didn't have what I needed. I improvised with a cable I found that would (tenuously) plug into my Apple charger and I could hang everything else off the laptop.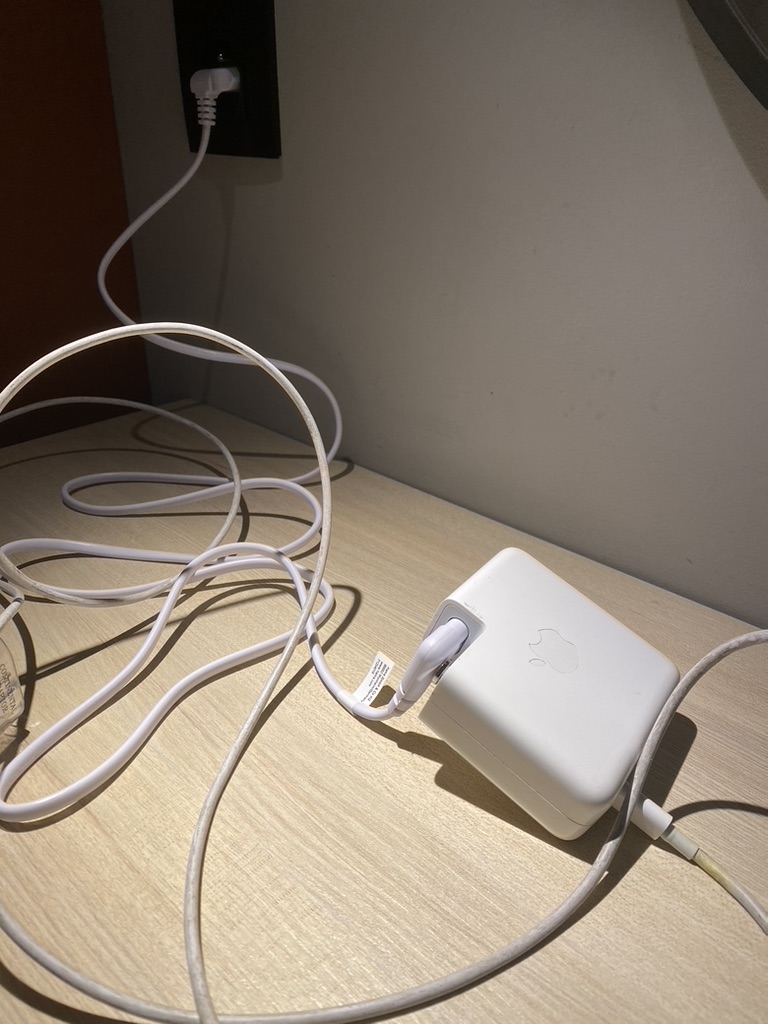 Travelling and working
My normal pattern became to work and travel in the day, and to explore in the evenings. Travelling First Class was a good call. Apart from the comfort (and occasional free drinks) there is usually a power socket and always enough space to use as a desk.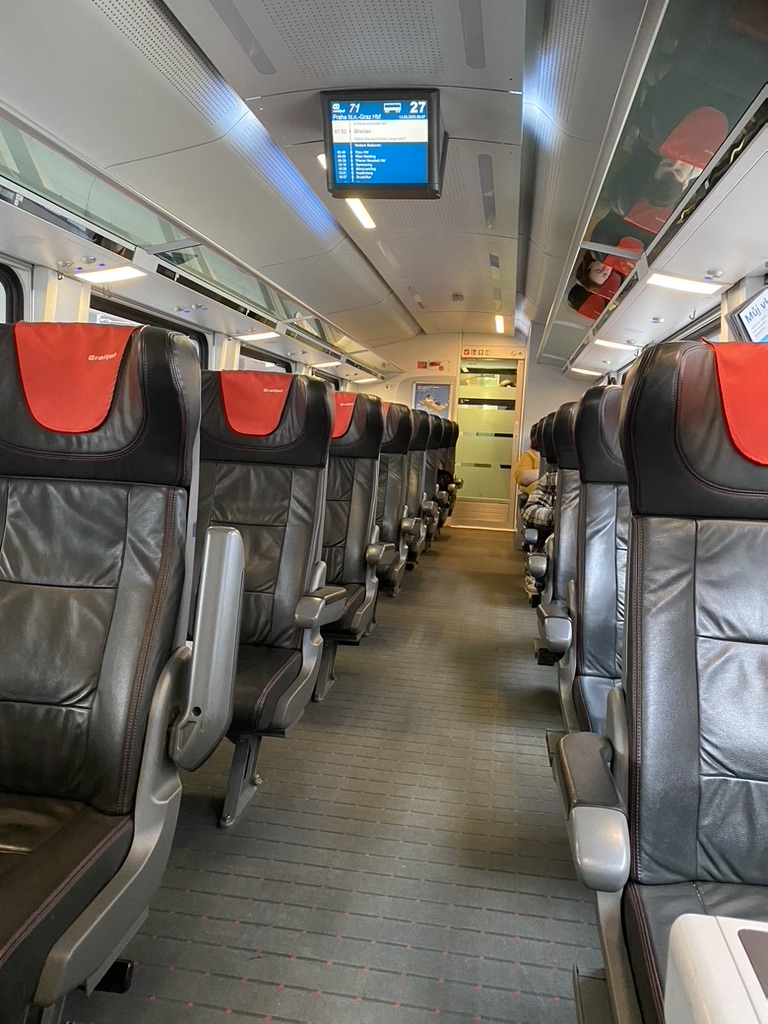 ÖBB in Austria had the most comfortable trains and the best Wi-Fi, though that may simply be that their trains were quieter so there was less contention. More often that not I would tether to my phone in preference to anything that was offered, as it was quicker. What I do need, and have not yet solved is a way to attach my phone to the window to get the best signal. Still working on that one.
The biggest problem with connectivity was when I needed access to the office. The nature of VPN connections is that if they drop for a moment you have to start over. Our VPN uses 2FA and needs a code sent to your phone so you can easily spend 30-40 seconds reconnecting, only to lose it moments later. I got better over time at planning when I was likely to need VPN access. I also saved up the jobs that I could do without needing any connection at all, for times when I was in mountains, tunnels and the like – though it has to be said that one of the best connections I had over the whole summer was in a very long railway tunnel between Italy and France!
The majority of local services are standard class only and finding anywhere other than your knee to work is pretty unlikely, and getting an Internet connection is all but impossible. Fortunately such journeys tended to be at the start or end of the day and I would just sign off for a while.
Occasionally, you have to hunt to find power for the laptop. It can be in the strangest places. I only found this socket because I spotted an off-duty member of staff charging his phone from one of these.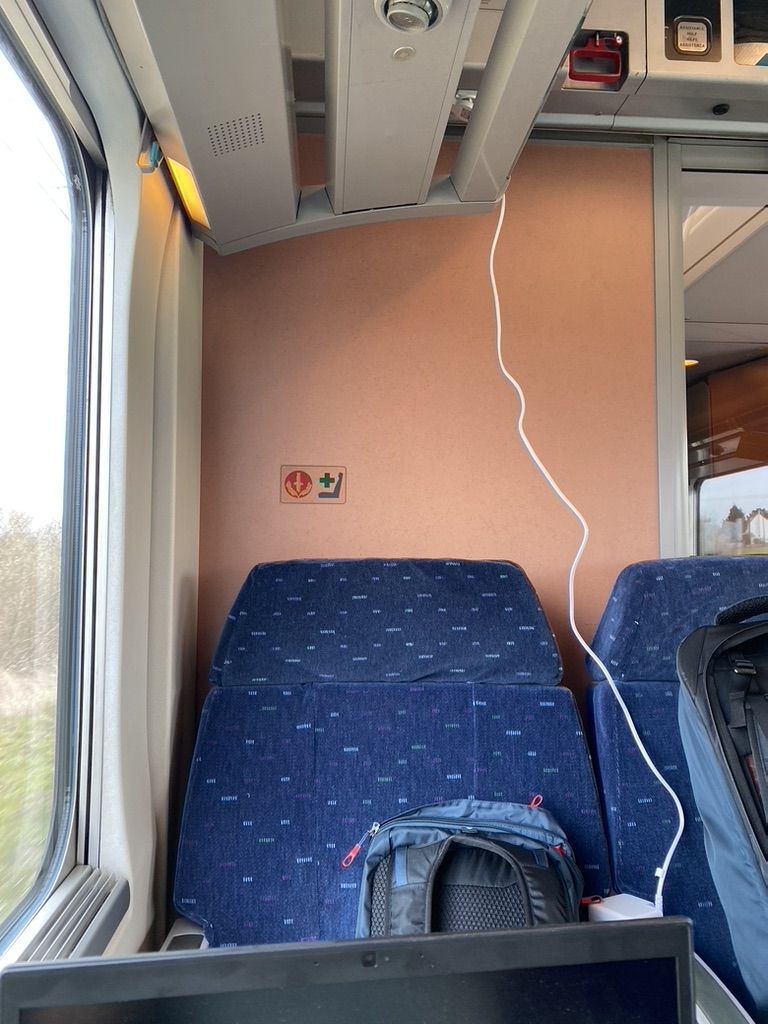 On more than one occasion I wished that my cables were longer, so that I didn't have to balance them on my knee or the back of a seat.
I did a number of Teams video calls from trains. Usually I would do them from my phone and using headphones at the end of a carriage rather than at my seat, so as not to annoy people, but there was one occasion on a German train where someone came out of the compartment to tell me off for talking. I'd not realised that the very lovely glass doors on DB trains are not soundproof.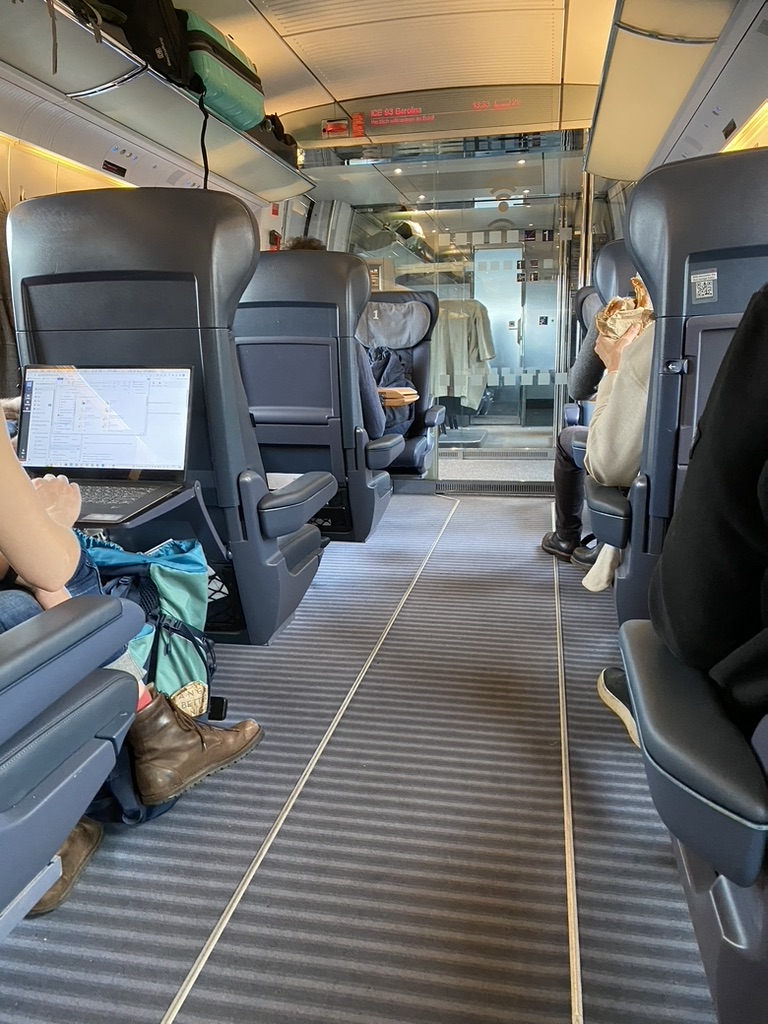 There was also a converse problem, a train is a noisy environment so I had to remember to stay muted when I wasn't talking.
A few times I used station Wi-Fi and parked myself in a waiting room. They are surprisingly good places to work as they are usually quiet. I did a few video calls in these. Conversely station concourses are very noisy, with constant announcements and best avoided.
Working from hotels
Unlike several of the large hotel chains in the UK, most continental hotels offer good free Wi-Fi. I only once found a hotel with no Wi-Fi at all, and that was a very cheap B&B in northern Italy.
A few times I stayed somewhere for 2 nights because I had meetings booked and/or knew that I needed a reliable connection through the day. A problem with hotels is that you're rarely able to stay beyond 11am and often it's 10am, and of course you are 1 or 2 hours different to the UK, so can be well on the move by the time colleagues are saying good morning.
In one hotel in Milan I kept being thrown off the Wi-Fi. I went to reception who told me that they had rebooted it a few times as people kept complaining, but thought it was just that so many people were working from their rooms. Eventually gave up and I put my phone on the window ledge outside to get a signal that way (there wasn't enough 4G coverage in the room.) Thankfully the weather was kind and the window opened onto a private space, so this was not a problem.
I guess that is a problem that all hotels are having to address, with Internet connectivity being an expectation not a luxury for many guests. I did find a hotel in Bologna that was specifically encouraging people to work from it. The model is quite interesting. They have a mix of normal hotel rooms and short term lets, but have lots of facilities you would not normally get. Hot desks, video conferencing rooms and support infrastructure like printers.
The place had originally opened as student accommodation but had not found a market so had reinvented itself. I really liked it, and found it a pleasant environment to work in on a crazy hot day in the middle of the summer heatwave. Lots of other guests were more interested in the pool though! Personally I stayed indoors and found a desk near to the coffee shop.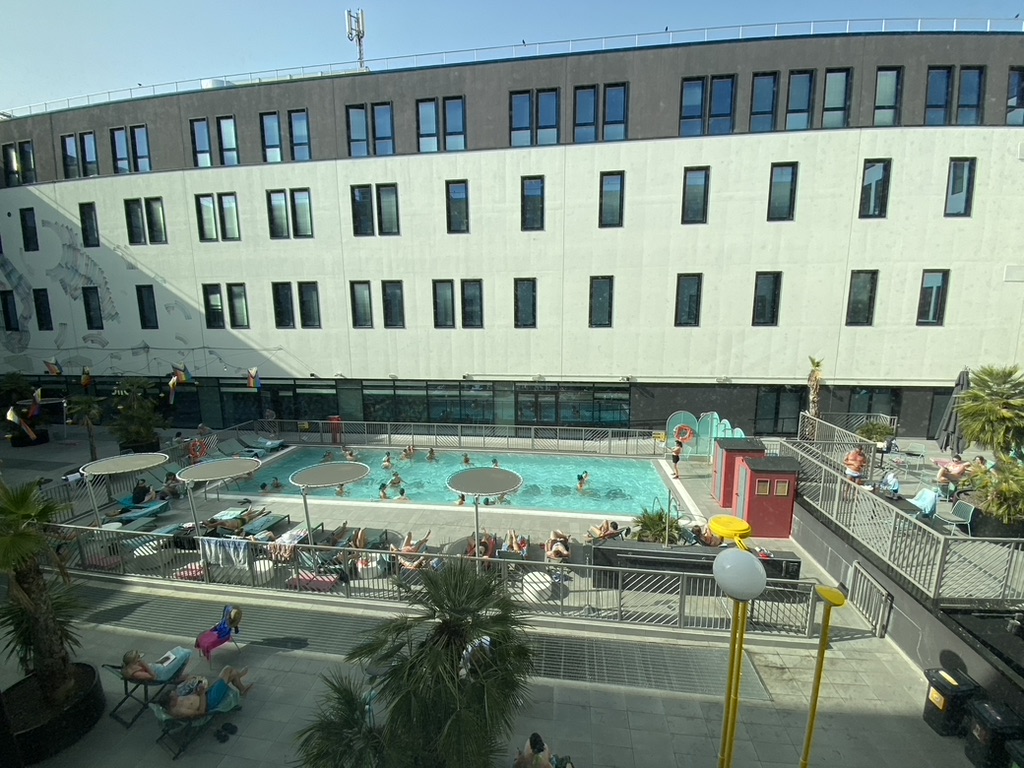 I am tempted to try more of these sort of places. Many traditional hotels don't exactly invite people to work in their public spaces and sitting in your room all day can be a drag. A comfortable desk and convenient spot for drinks and food makes a big difference, as long as it's not too distracting.
Conclusions
Overall it's been a really positive experience from a work point of view, as well as an incredible adventure. It makes me more inclined to just get up and go on a whim, knowing that I can fit everything I need for work into a rucksack, and my clothes into the bag that it pairs with.
The point I mentioned about only being allowed to take one laptop turned out to be either nonsense or no-one checks. I'm not sure which it is but after finding this out on the first trip, I took both laptops with me on the subsequent trips, including twice on planes and no-one even commented. My rucksack now contains the following:
Dell laptop
Macbook
Apple Macbook charger (with removable UK plug)
double ended USB-C charging cable (connects both laptops to the Apple charger)
two pin mains cable (as per the photo above.) I really do need to get the proper Apple version of this, but I find that the 2-pin connector means I can plug it in pretty much anywhere, barring certain plugs in Florence which seemed slightly smaller.
iPhone charger with USB2 adapter (to charge in USB sockets on trains)
USB2 to USB-C adapter (to use with the above adapter into the Macbook)
Universal mains adapter (needs to be the sort with a hole for an earth connection – that's what caught me out in Antwerp.)
earphones for the laptops (3.5mm jack) and iPhone (Lightning port)
I took various other things at different times, a mini dock, a mouse, the iPad, different combinations of cables and adapters, but this was what it eventually ended up as and I don't think I'd change it now.
I'm already planning more trips. I can't imagine I'll ever travel more than I have in 2023 – I have visited 27 countries this year (and am possibly not done yet.) The Interrail pass works brilliantly for me, I love the freedom to change my plans on a whim, or in response to personal/work situations. I will do more next year, maybe not at the same pace, but the model seems to work, so why not keep going?